Opposing Domestic Violence
According to official data, one quarter of Chinese women have suffered domestic violence by their husbands. Young Chinese feminist activism takes domestic violence very seriously. "Bloody Brides," the famous performance piece, has become their iconic symbol. "Bloody Brides" argues that domestic violence has been disguised as romantic love. The image encompasses the spirit of activism and embodies their anger and condemnation.
Young feminist activists call for the public to attach importance to the issue, to hold law enforcement responsible and to protect victims. Through their efforts, they've directly reached out to protect litigants' rights and, in some cases, even saved victims' lives. They believe that it is urgent to have policy and legislation in place, and therefore have initiated the highest degree of support for women's rights in China, and continue to investigate legislative means for benefiting stakeholders.
"I don't want to be another Li Yan."
In January 2013, a middle aged women named Li Yan attracted national attention after she was sentenced to death for killing her abusive husband. In several cities, young women wrapped themselves in white cloth to illustrate the helpless situation of domestic violence victims. Two volunteers handed a petition to the court and other actions were initiated by feminist activists, lawyers, and human rights defenders in and outside China to save the woman's life. After a retrial in April 2015, the Supreme People's Court (最高人民法院) repealed the death penalty in Li Yan's case, and her sentence was eventually commuted to life in prison.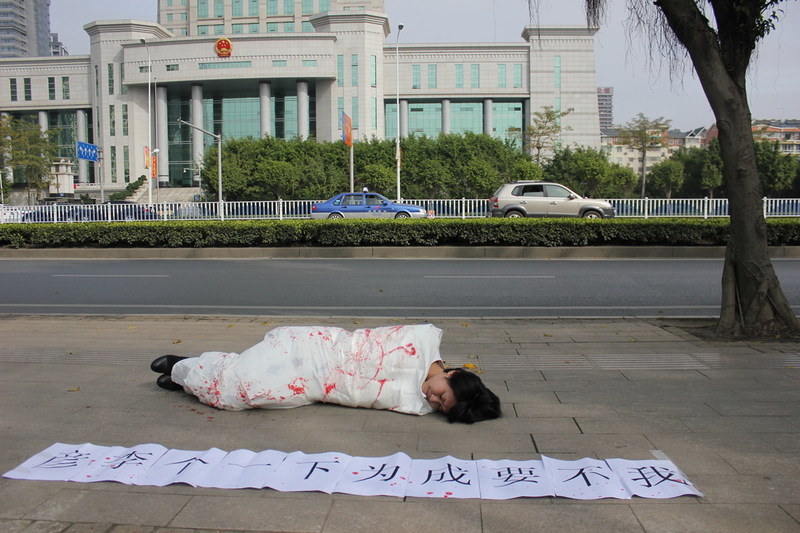 Bloody Brides Against Domestic Violence
In September 2011, Kim Lee, an American woman living in China, accused her then-husband Li Yang, a Chinese celebrity and billionaire, of domestic violence and then filed for a divorce. This brought national attention to the problem of domestic violence. Volunteers launched various activities including writing a petition, singing, and dancing outside of the courthouse to support Lee. In February 2013, domestic violence was recognized and compensated in the verdict of their divorce case, which made an exemplary case in China.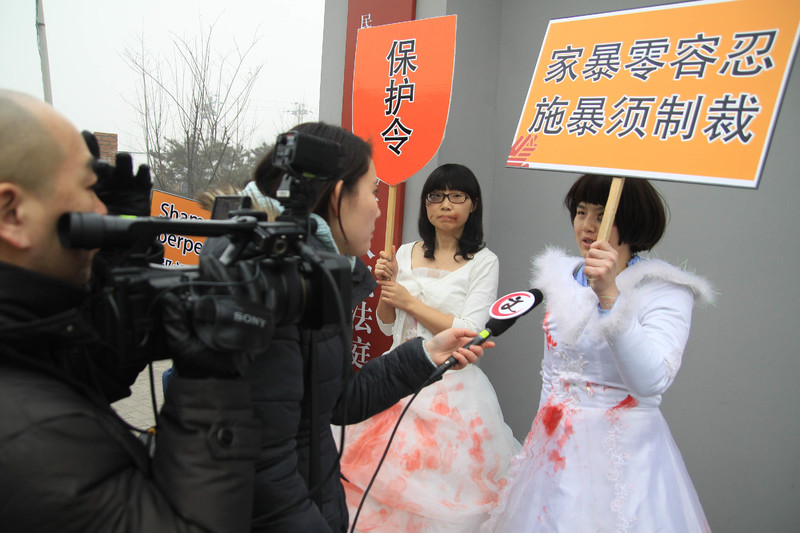 On February 14, 2012, three volunteers dressed in wedding dresses with fake bloodstains protested on a busy business street in Beijing. The signs they held read: "Equality then harmony," "Violence doesn't belong to this region," and "Violence, are you still silent?" This was the first street performance action against domestic violence held in Beijing.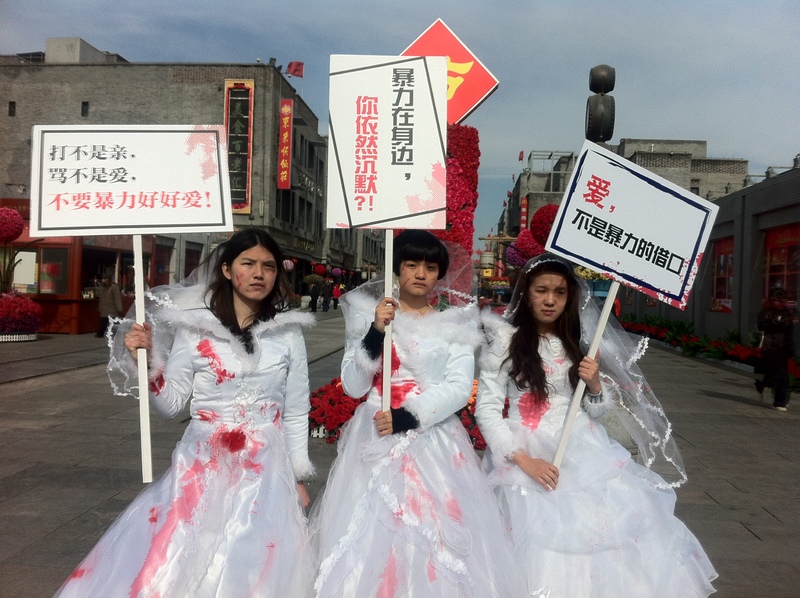 Nude Photos Against Domestic Violence
In November 2012, feminist activists launched an online campaign of photos depicting partially nude bodies with anti-violence slogans written on them to call for a national law against domestic violence.
Click on each image to see more information.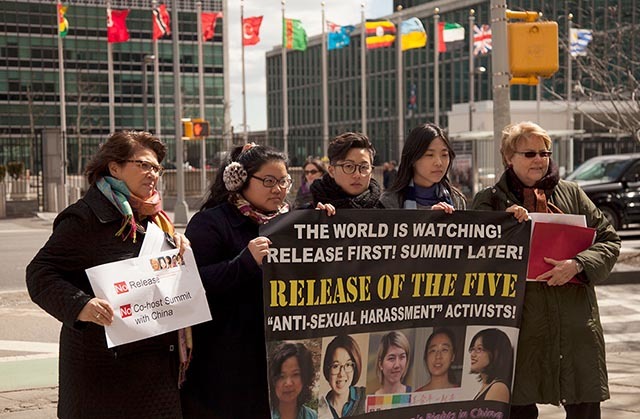 The Five Sisters: The Case of the Feminist Five