About this exhibit
This digital exhibit is a faithful representation of a physical exhibit of the same name, which was hosted by the University of Michigan's Institute for Research on Women and Gender from January 2016 through June 2016. Unless otherwise noted, all textual materials were part of the original, physical exhibit.
Using materials from the physical exhibit, this digital exhibit was created by Liangyu Fu (Chinese Studies Librarian) and Meredith Kahn (Women's Studies Librarian), who created additional descriptive information for the images, as well as a bibliography of relevant sources.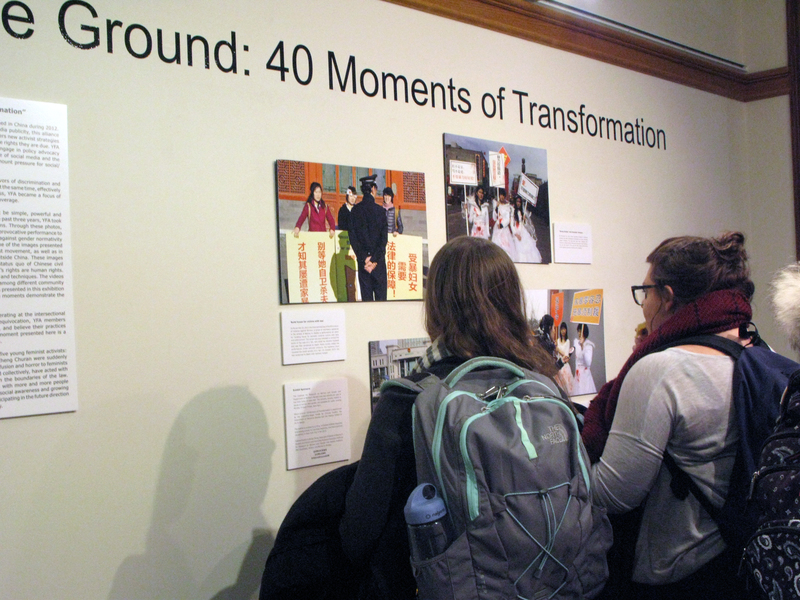 Acknowledgments and Sponsors
The images and much of the text in this exhibit were originally on display in Lane Hall, on the University of Michigan campus, January 2016 through June 2016. The University of Michigan's Institute for Research on Women and Gender and the Department of Women's Studies host two exhibits per year in the main lobby of Lane Hall. The exhibits, broadly related to issues of women and gender, are available for public viewing Monday through Friday, 8am-5pm.
"Above Ground: 40 Moments of Transformation" was co-sponsored by the Lieberthal-Rogel Center for Chinese Studies, the Department of Women's Studies, and the Stamps School of Art & Design.  The exhibit was curated by Lü Pin, a Chinese feminist organizer and visiting scholar at Columbia University, who first organized the photographs for an exhibit in New York City in fall 2015.
Special thanks to Joshua Hubbard, PhD Candidate, History and Women's Studies.
Rights and Permissions
The University of Michigan Library provides access to these materials for educational and research purposes and makes no warranty with regard to their use for other purposes. If you decide to use any of these materials, you are responsible for making your own legal assessment and securing any necessary permission or licenses. With respect to this collection, we have elected to place these items online as an exercise for strictly non-commercial, educational uses. We are eager to hear from any rights owners, so that we may obtain accurate information. Upon request, we will remove material from public view while we address a rights issue.
Questions?
Contact chinese.feminist.activism@umich.edu for inquiries.