Goldilocks and the Three Bears
As the story of Goldilocks and the Three Bears is commonly told, a little girl enters the house of a family of bears. She sits in their chairs, eats their food, and lies in their beds -- always preferring Baby Bear's things. When the Bear Family returns, she leaves.
Goldilocks and the Three Bears (1959). Tony Palazzo (author and illustrator)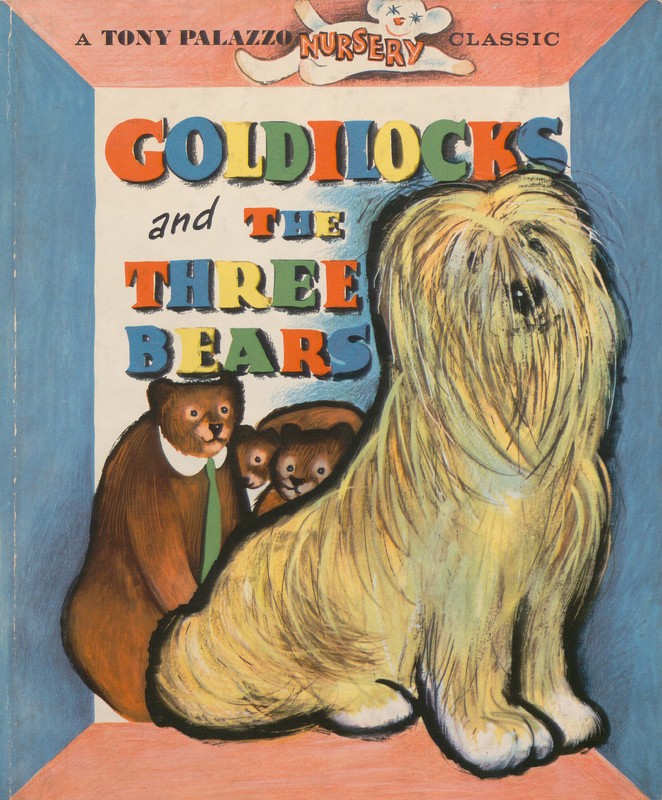 The illustration on this book cover depicts Goldilocks as a shaggy, golden dog in the foreground. Three brown bears are visible in the background.
This 1959 construction of Goldilocks and the Three Bears, retold by Tony Palazzo, deviates widely from the original tale first told by Robert Southey in England in1837. Palazzo's version offers a striking twist to the classic tale in that the character of Goldilocks is portrayed by a shaggy, golden dog, instead of a young lady. As we can see from the cover, pictured above, Goldilocks is the most notable figure. The size of the character is exaggerated, and also her boldness makes the character seem much more salient than the three bears.
Goldilocks as a dog is stripped of her once human attributes. The Three Bears on the other hand are given many anthropomorphic characteristics by living a domestic life in a house, wearing clothes, and speaking proper English. This inverts the usual associations by connecting stereotypical wild animals, such as bears, with a domestic life and a stereotypical domestic animal, such as a dog, with a wild life. The switching of the protagonist character from a human girl to a stray dog in Palazzo's story impacts the readers' relationship with the story. Instead of sympathizing with a hungry girl, we identify more with the anthropomorphic bears whose lives were disrupted by a stray dog.
--Sally Moon
Goldilocks and the Three Bears (1984). Vojtěch Kubašta (illustrator)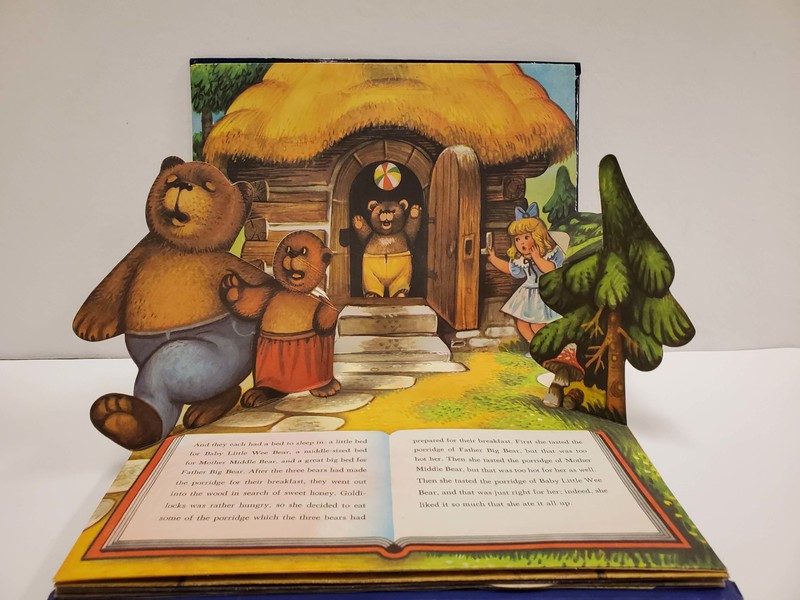 In this pop-out illustration, Goldilocks hides behind the bears' front door with a shocked expression, shielded by trees. The bear parents loom over the illustration as they pop-out from the page while Little Bear plays with a ball, oblivious to Goldilocks' presence as they leave their home.
Goldilocks and the Three Bears, illustrated by Vojtěch Kubašta in 1984, retains the same basic plot as Robert Southey's 1839 version: Goldilocks eats the bears' food, sits in their chairs, and sleeps in their beds. However, this version includes pop-up illustrations to help the story come alive. To reawaken the popularity of children's books during the Great Depression, Blue Ribbon Publishing of New York created mechanized illustrated storybooks and coined the term "pop-up" in 1932. The new interaction and surprise of pop-up books became immediately popular among young readers. Since 1932, up to 25 million pop-up books have been produced. Vojtěch Kubašta capitalized on the pop-up book trend. In 1956, he designed his first pop-up book, Little Red Riding Hood. Kubašta became one of the best-known book designers and illustrators, selling 35 million copies of his books. Today, original editions of his books, such as this one, are prized possessions. In this original edition, a reader with a sharp eye may notice the typo on page 4, where Goldilocks tries the porridge that is "too hot [for] her." On this same page, Goldilocks is within nature, whereas Momma Bear and Poppa Bear pop-out from the page as they walk away from their home.
--Rachel Hamill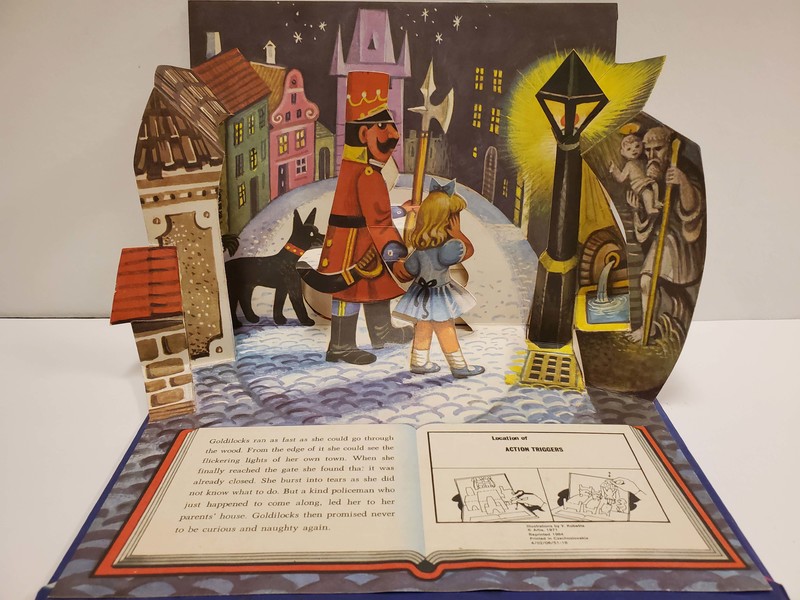 In this final page-opening of Kubasta's pop-up Goldilocks, a starry night and colorful city surrounds a girl in a short, ruffled, blue dress with a matching hair bow in her light blonde hair. A policeman in a red uniform holds her arm with one hand and a battle axe in his other hand. The Policeman's black dog stands alert next to them, and they are positioned together in front of a statue of Joseph with Baby Jesus and a glowing lantern.
What implications does this illustration convey? Prior to the age of Enlightenment, children were thought of as innately sinful and parenting was heavily based on punishment. With a shift in the 1800s, children came to be seen in a new light. Key philosophers such as Jean-Jacques Rousseau promoted children's curiosity and they supported a new form of parenting that relied on nurturing children instead of punishing them, and regarding them not as sinful by nature, but as easily corrupted by society.
These new views of childhood carried over into the 20th century and continued to develop. The last page of this edition links beliefs about childhood curiosity and romantic views of children's relationship to nature. In the conclusion, Goldilocks romseeks refuge from an authority figure and keeper of peace--the Policeman, and she thus abandons her previous curiosity and troublemaking. In addition, the two stand hand in hand in front of a symbol of religion, under a glowing light representing holiness. The concluding sentence states "Goldilocks then promised never to be curious and naughty again." Goldilocks does not receive punishment for her actions, but is instead nurtured as she realizes her mistakes on her own.
--Alison Mclean
Goldilocks and the Three Dinosaurs (2012). Mo Willems (author and illustrator)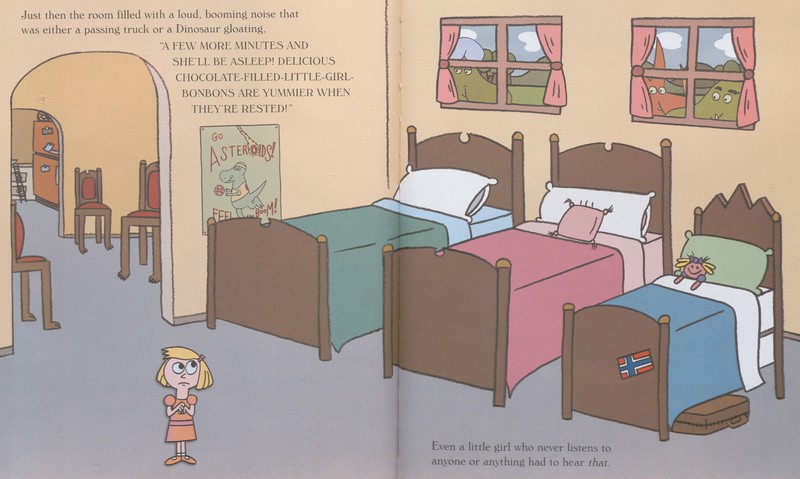 In this illustration, Goldilocks stands nervously in the center of the dinosaur's bedroom next to three huge beds. The three dinosaurs peak through the windows.
Mo Willems, the author and illustrator of this edition, is experienced in making kids laugh; Willems worked on Sesame Street and is a prominent figure in contemporary children's literature. Willems' replaces the three bears with silly dinosaurs from Norway. While it is not uncommon for retellings of Goldilocks to replace the domestic bears with another type of animal, it is unique for the bears to become tricksters. In previous versions, the bears' villain status is slightly unclear, but in Willems' version, the dinosaurs deliberately attempt to trap Goldilocks. At the same time, Goldilocks is still depicted as a careless, "poorly supervised" intruder. In this way, every character in the story has questionable intentions and a moral to learn.
Willems demonstrates this moral ambiguity by injecting humor into the tale. Throughout the story, Willem uses a playfully sarcastic tone, which portrays both the dinosaurs and Goldilocks as somewhat dim and particularly unaware. Since the 1800s, humor has been an integral part of the development of children's literature, especially in contemporary picture books. Not only is humor entertaining to children, it can also be sophisticated and stimulating. Thus, the use of villainous dinosaurs, combined with a sarcastic tone, reveals the depth humor can have, allowing this classic tale to be transformed into a funny contemporary story that forces readers to question both the protagonist and antagonist.
--Akili Echols
The Bremen Town Musicians