Sahidic Dialect
The Sahidic dialect was the classical language for administration and literature of Christian Egypt and it was universally used in all parts of Egypt from the 4th to the 12th century. The last vestiges of Sahidic, often Arabic-Sahidic glossaries and grammars, can be dated to the 14th-15th century.
The two codices shown below were discovered, together with three other similar small-dimension Sahidic parchment manuscripts, in a jar unearthed near the so-called Step Pyramid (the oldest proper pyramid of Egypt) at Saqqara around the year 1924. The latter three codices are kept in the collection of the Chester Beatty Library, Dublin: Copt. Mss. 813-815. Evidence supplied by the manuscripts'colophons indicates that they were produced in the Monastery of Apa Jeremiah at Saqqara. Along with the manuscripts some coins were found from the reigns of Justinian (527-565) and, perhaps, Maurice (582-602). On the basis of these coins, Mich. Ms. 166-167 can be dated more or less securely to the late 6th or early 7th century.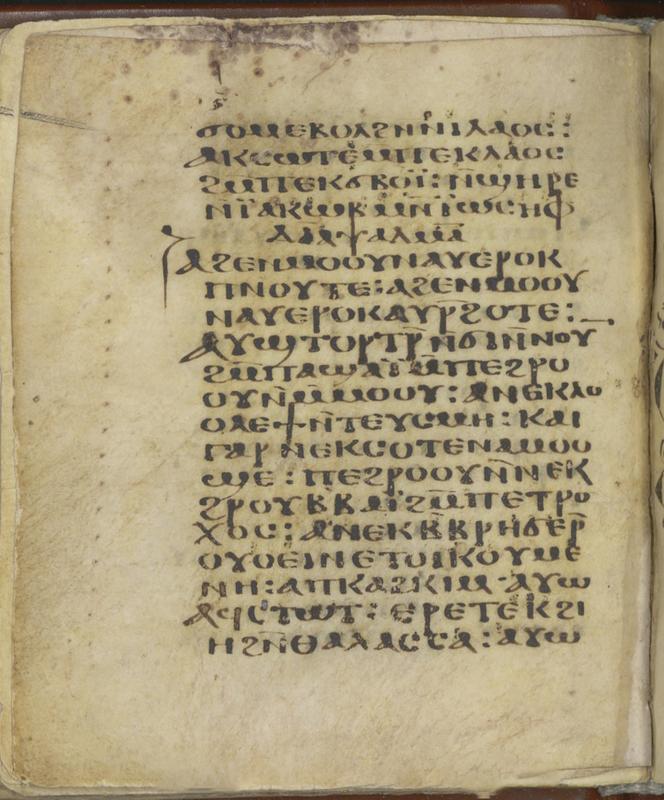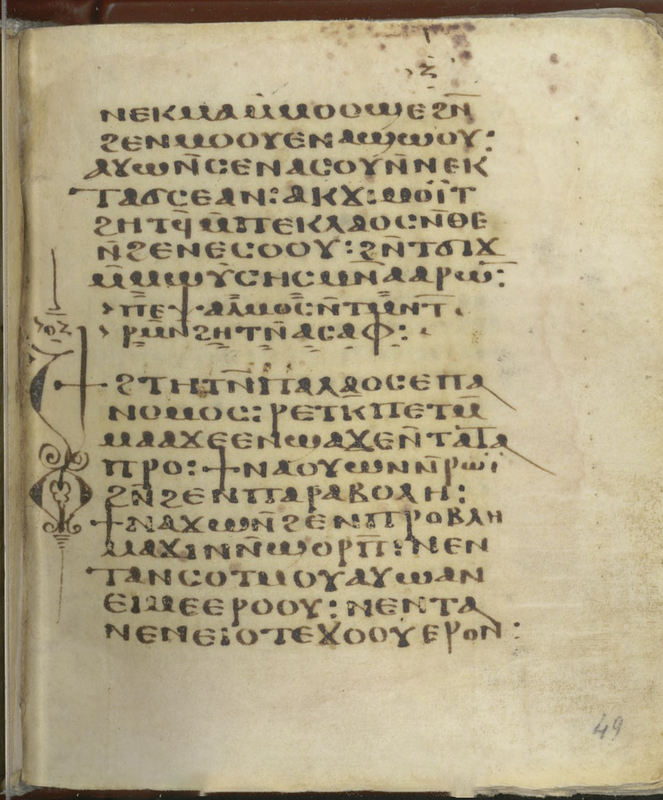 These two facsimile models of Mich. Ms. 166 and 167 were created to show the viewer what the original bindings of these two seventh-century codices may have looked like; the two manuscripts were expertly repaired and then rebound into their present sturdy plain calf bindings in the 1930s. Lacking evidence about so many of our early codex bindings, we often have to imagine and borrow, based on what does survive.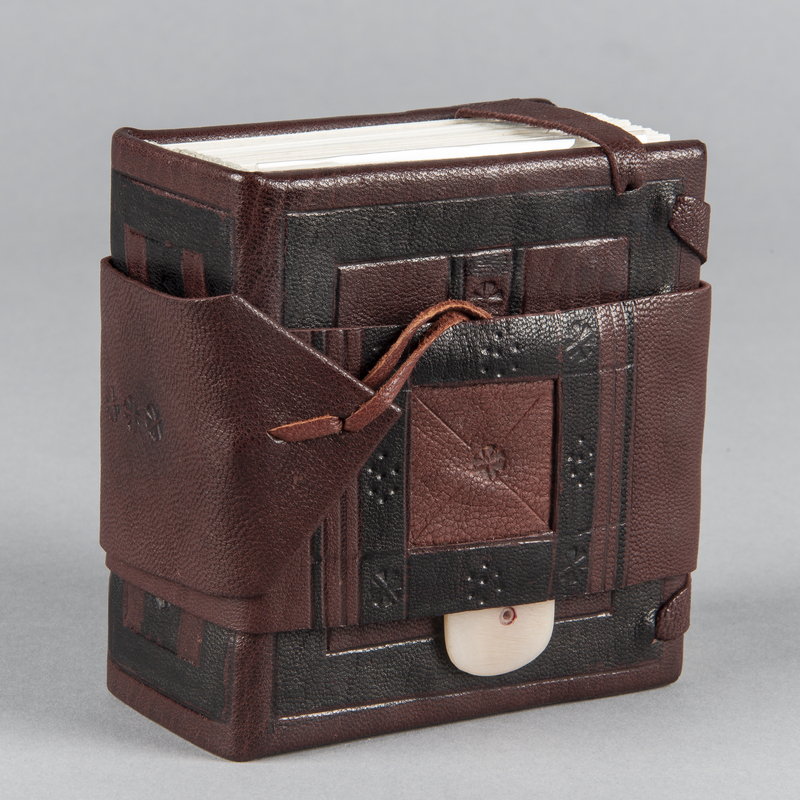 Mich. Ms. 166 was found with others in the 1924/25 dig season near Saqqara, Egypt. In general the manuscript was in poor condition; its binding had decayed over time and no fragments are known to survive. Our model is based on the structural and material elements of three codices from the find that retained part of their bindings, particularly Chester Beatty, Dublin, Copt. Ms. 815 with its papyrus boards, full leather binding, and extensive inked cover decoration.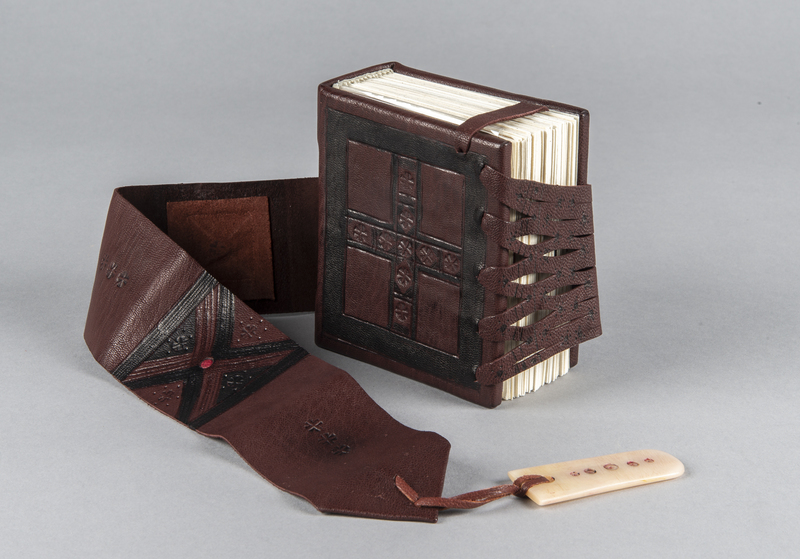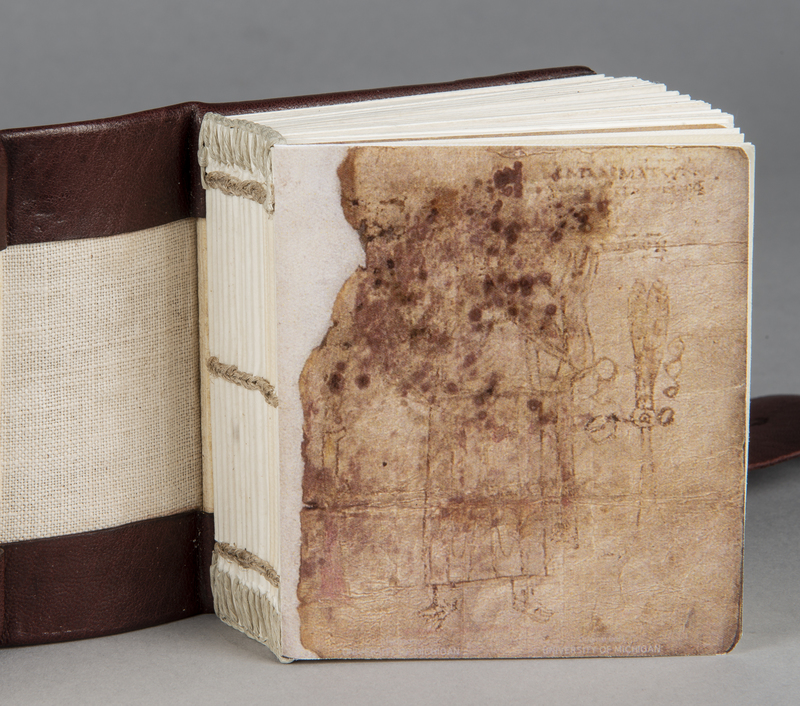 The text block is sewn in unsupported link style at three stations; linen spine lining; link-style endbands; cover of dark red-brown goatskin over laminated papyrus boards, with a single "string bag" wrapping band extending from the fore edge of the upper cover and finished with a decorated bone slip. Cover decoration a combination of blind tooling and stamping, solidly inked areas, inked designs, and cutouts backed with contrasting leather; bookmarks were typical and this model has one, extending from the upper cover. Three leather edge tabs were added to text leaves in emulation of those found in the original text.
Mich. Ms. 167 was found with the same group as Mich. Ms. 166 in 1924/25. The binding was also very deteriorated with no surviving fragments assigned to it, aside from two elaborately decorated bone slips. These can be seen on the Lamacraft model commissioned by Professor Francis Kelsey for the University in 1925, the model based on Chester Beatty Mss. 814 from the same find and cataloged with Mich. Ms. 167.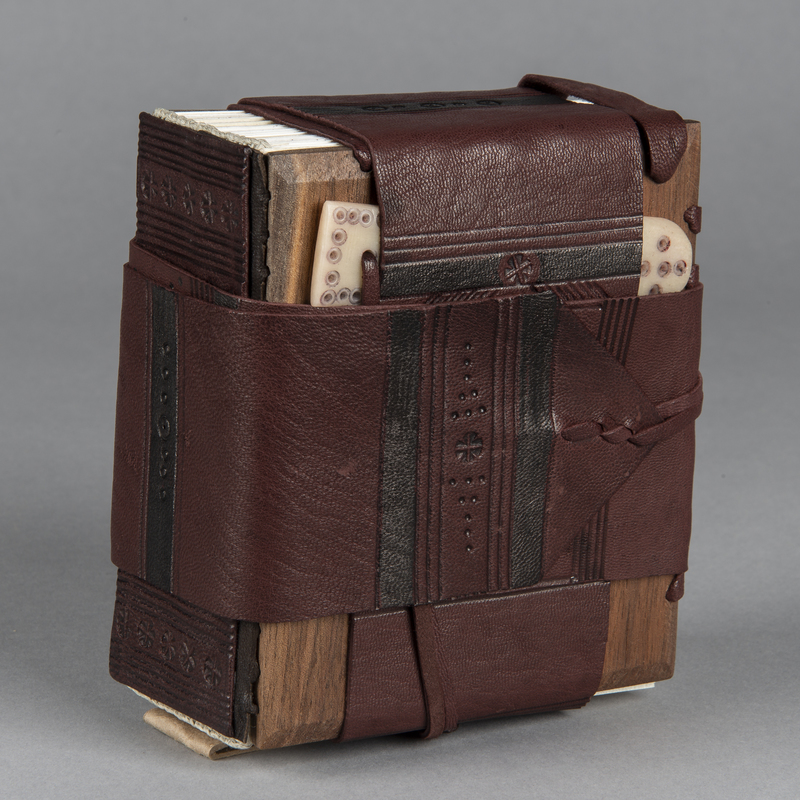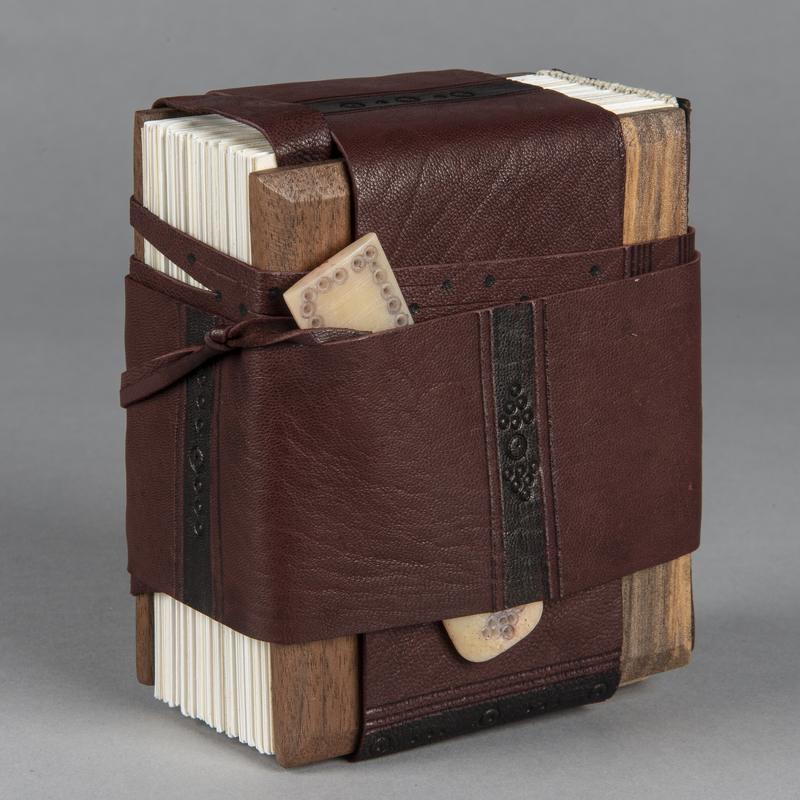 This interpretive model for Mich. Ms. 167 borrows structural and material elements from binding fragments assigned to CB 813 and 814. It is bound in dark rust-brown goatskin; dark red and dark brown leathers were typical on first millennium bindings. The structure of the model mirrors the little we do know of the original: recessed extended-link sewing at four stations, a single leather edge tab marks a leaf of text, and an attempt is made at copying the magnificent original bone slips. This model imitates the Lamacraft model in that it is bound in wooden boards with leather spine pieces, two "string bag" wrapping bands extending from the upper cover and possessed a bookmark of leather lined with parchment; all leather portions are elaborately decorated in ink designs, blind stamping, and cutouts backed with gilded parchment as were CB 813 and 814.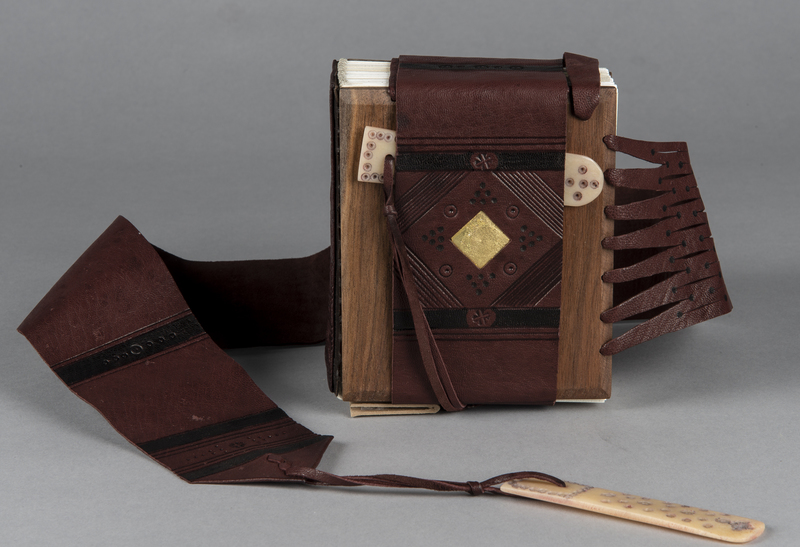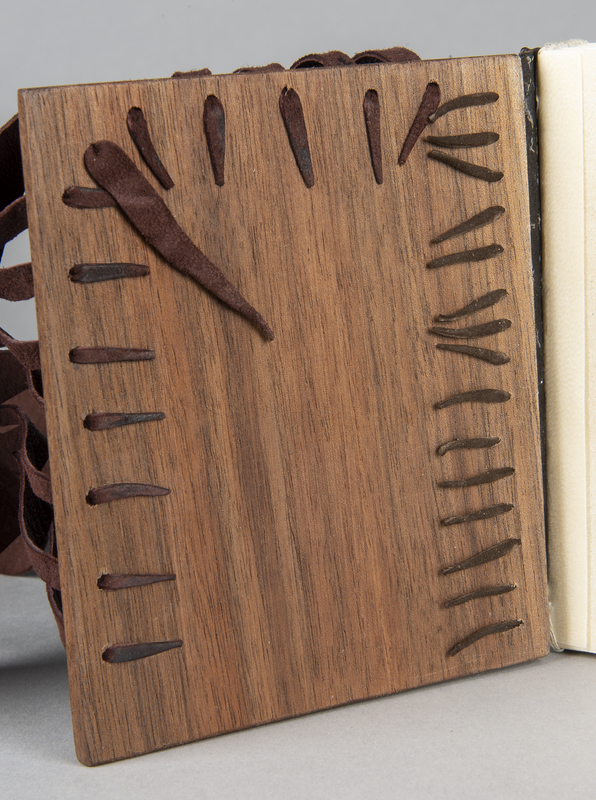 The choice of papyrus vs. wooden boards for these two models was arbitrary; there is no definite evidence which manuscript had which type of board. Charles Lamacraft, who studied the manuscripts and binding fragments in the 1920s, supposed that 167 was bound in papyrus boards and full leather, but when he made the model for Michigan that bears his name, he chose to utilize wooden boards for 167, perhaps just because Professor Kelsey was so taken with the gorgeous wooden-board models Lamacraft had already made of Copt. Ms. 813 and 814 for the Chester Beatty Library. These relatively small, highly decorated books are believed to have been intended for use by a wealthy owner, whether in a monastery or in private life.