Little Red Riding Hood
The Big Bad Wolf and Little Red Riding Hood (1934). Walt Disney Productions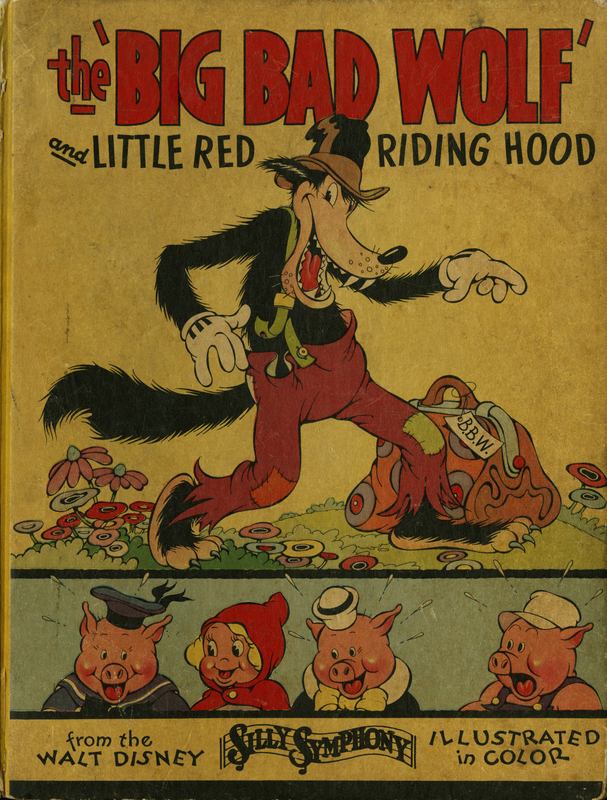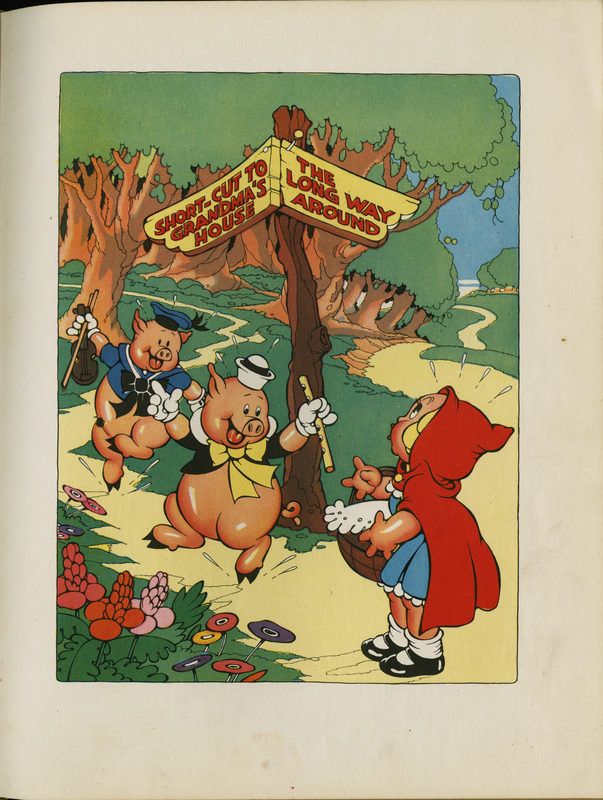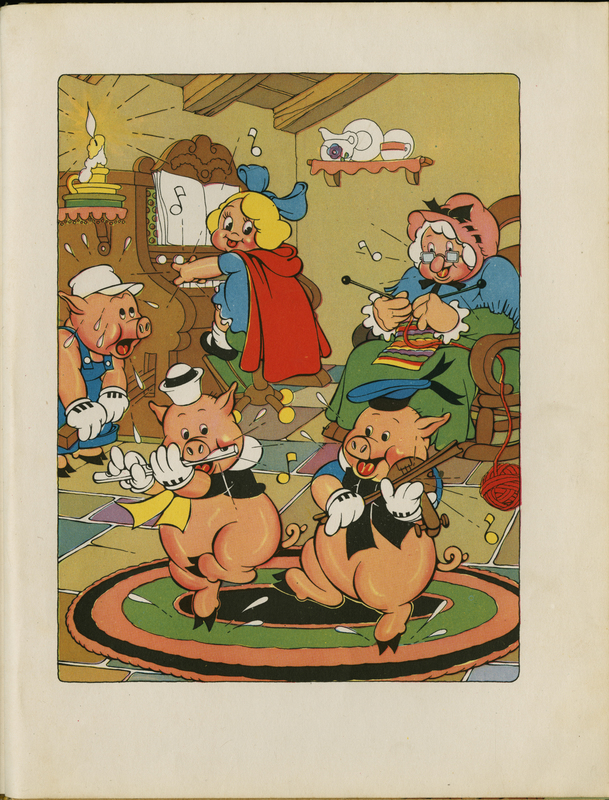 Walt Disney's The Big Bad Wolf and Little Red Riding Hood, published in 1934, is a creation from Disney's most prolific period, the era during which he produced his Silly Symphonies. Although this was a creative period for Disney, it was a time of economic crisis and increased morbidity in America due to the Great Depression. At this time, children were caught in the midst of Depression trends like poor nutrition and inadequate access to health care. As a result of the economic downturn, job opportunities decreased, causing the younger generation to stay in school longer. Cartoon culture like DC Comics and Disney rose to immense popularity in the wake of this push towards education.
In this book, an unusual mash-up of Little Red Riding Hood and The Three Little Pigs, Disney depicts the protagonists as overjoyed and overfed figures. With their pudgy faces and innocent dimples, they likely helped to boost the morale of children facing the deprivations and difficulties associated with Great Depression. The representation of a well-fed American youth coupled with the happy ending, which replaces the conventional gruesome death of some of the main characters, offers us insight into Disney's intention to provide positive and reassuring messages during a time of great despair.
Cole Dimich and Bailey Dozier

Little Red Riding Hood (1948). Elizabeth Orton Jones (author and illustrator)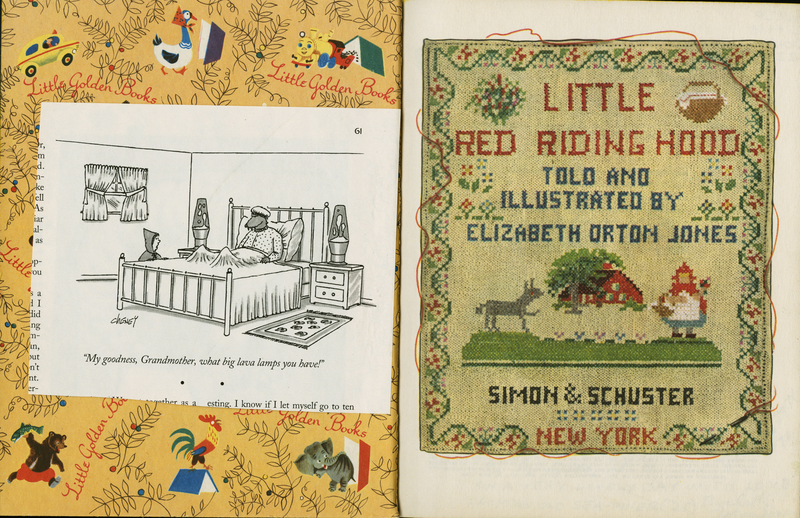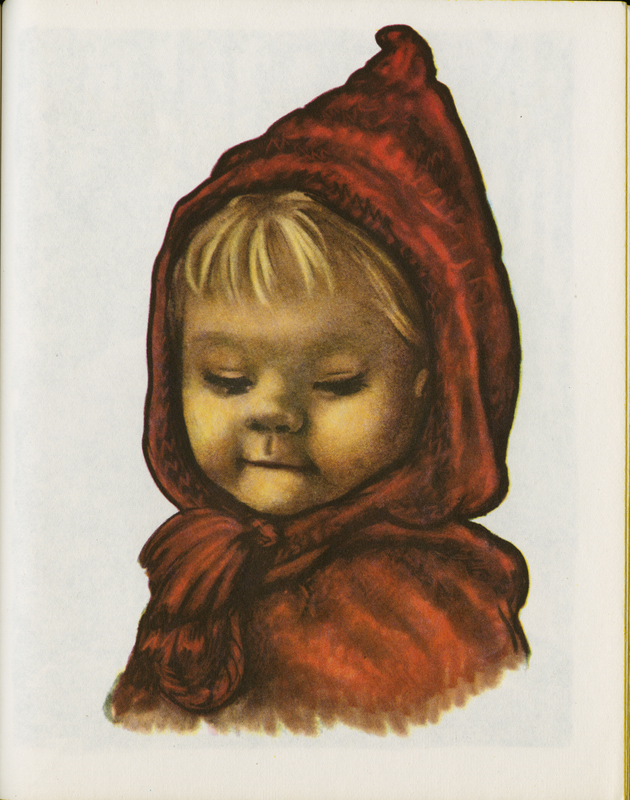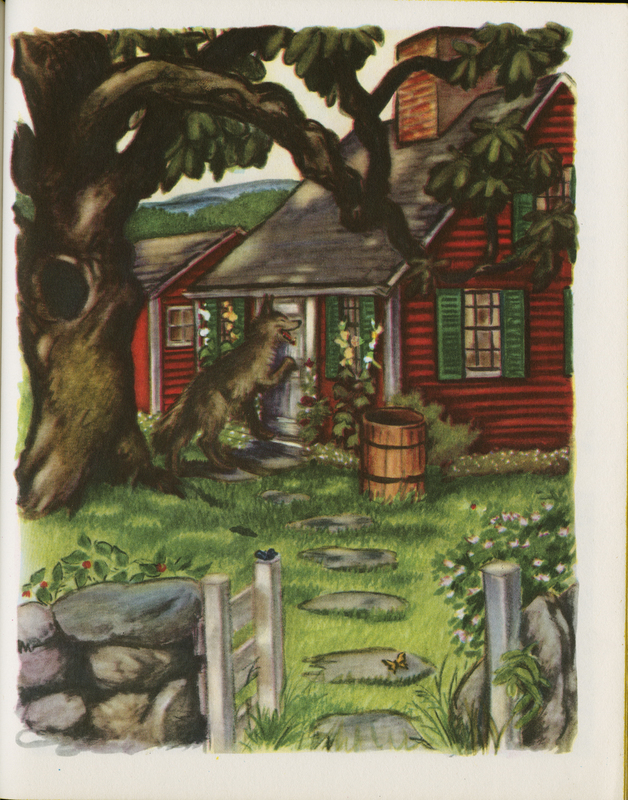 For over 75 years, Little Golden Books has endeavored to make high-quality children's books accessible to everyone. Paying homage to the classics, Little Golden Books published Elizabeth Orton Jones' version of Little Red Riding Hood in 1948. The inside cover page imitates needlepoint, evoking the domestic arts and suggesting the homespun comfort of a familiar tale. Directly opposite the title page, pasted into the book, is a later cartoon that satirizes the scene in which Red Riding Hood encounters the wolf disguised in her grandmother's bedclothes. In this cartoon, Red Riding Hood exclaims at the size of her grandmother's lava lamps instead of at the large ears, eyes, and teeth of the wolf that traditionally frighten her. This juxtaposition of the earnestly traditional cover page and the facetious cartoon captures the confluence of classic and modern components that results from the republishing of old stories.
In her interpretation of the classic fairytale, writer and illustrator Jones' opts for a younger, toddler-like Little Red instead of the tween or teenage girl of other versions. The wolf illustrated by Jones looks natural and ordinary, walking on all fours. This representation contrasts with more human-like versions of the wolf that walk upright on two legs. Human-like wolves, which speak and give the appearance of thinking rationally, differ greatly from wilder wolves that clearly would not think twice before gobbling up a little girl. That this younger and therefore more vulnerable Little Red faces an animalistic and perhaps less rational wolf dramatizes the anxieties about child endangerment captured in the story template.
Caileigh Doherty and Clea Steir