About the Exhibit
This exhibit is the outcome of a truly interdiciplinary initiative that, by combining expertise in various areas such as music, art, and manuscript studies,  has greatly contributed to our understanding of a richly decorated fifteenth-century antiphonary (Mich. Ms. 246). 
If you have questions or comments about the exhibit, please, contact Pablo Alvarez (pabloalv@umich.edu).
For more information about the University of Michigan Special Collections Center, please visit our website.
Acknowledgments
My most sincere gratitude goes to the group of six extraordinary singers who enthusiastically undertook this project and performed beautifully with little rehearsal time: Adam Wills Begley, Noah Horn, Austin Stewart, Glenn Miller, Matthew Abernathy, and Dr. Stefano Mengozzi. The filming and editing was made by Zoë Crowley (Media Assistant II, Learning & Teaching Unit) and David Hytinen (Media Consultant, Learning & Teaching Unit).
The content of this exhibit greatly depends on the scholarly work of Dr. Lilian Armstrong. I sincerely hope that the selected bibliography dutifully reflects her work in reconstructing the content of the six antiphonaries and in identifying Benedetto Bordon as the author responsible for the illuminations in these magnificent manuscripts. 
This online exhibit has been a truly collaborative project, which is attested in the following list of colleagues who generously helped at its different stages:
Karmen Beecroft, Collection Services Specialist, Special Collections Library
Lucia Campbell, Minister of Music at St. Thomas Apostle Catholic Church, Ann Arbor
Emiko Hastings, Curator of Books & Digital Projects Librarian, Clements Library
Nancy Moussa, Web Developer, Library Information Technology
Meghan Musolff, Special Projects Librarian, Library Information Technology 
Randal Stegmeyer, Media Digital Photographer, Digital Library Production Service
Rights Statement
The University of Michigan Library has placed copies of these works online for educational and research purposes. These works are believed to be in the public domain in the United States; however, if you decide to use any of these works, you are responsible for making your own legal assessment and securing any necessary permission. If you have questions about this exhibit, please contact the Special Collections Research Center (special.collections@umich.edu).  If you have concerns about the inclusion of an item in this exhibit, please contact ask-omeka@umich.edu.
Selected Bibliography
Angioli, Gabriela. "Codici rinascimentali della Chiesa di S. Francesco a Lucignano in Valdichiana." Miniatura 5-6 (1993-1996): 27-40.
Armstrong, Lilian. "Benedetto Bordon, 'Miniator', and Cartography in Early Sixteenth-Century Europe." Imago Mundi 48 (1996): 65-92.
________. "Benedetto Bordon, Aldus Manutius and LucAntonio Giunta. Old Links and New." In Aldus Manutius and Renaissance Culture. Essays in Memory of Franklin D. Murphy, ed. David S. Zeidberg, 161-183.
________. "Benedetto Bordon and the Illumination of Venetian Choirbooks around 1500: Patronage, Production, Competition." In Wege zum illuminierten Buch. Herstellungsbedingungen für Buchmalerei in Mittelalter und früher Neuzeit, ed. Christine Beier and Theresia Kubina, 221-244. Vienna: Böhlau Verlag, 2014.
________. "Benedetto Bordon and the 'San Nicolò Antiphonaries': New Discoveries. " In Il codice miniato in Europa. Libri per la chiesa, per la città, per la corte, ed. Giordana Mariani Canova and Alessandra Perriccioli Saggese, 569-585. Padova: Il Poligrafo, 2014.
Billanovich, Myriam. "Bordon, Benedetto." In Dizionario biografico degli italiani 12 (1970): 511-513. 
Harper, John. The Forms and Orders of Western Liturgy from the Tenth to the Eighteenth Century. Oxford: Clarendon Press, 1991.
Mattioli, Emilio. Luciano e l'umanesimo. Istituto Italiano per gli studi storici series 31. Naples: Nella sede dell'Istituto, 1980.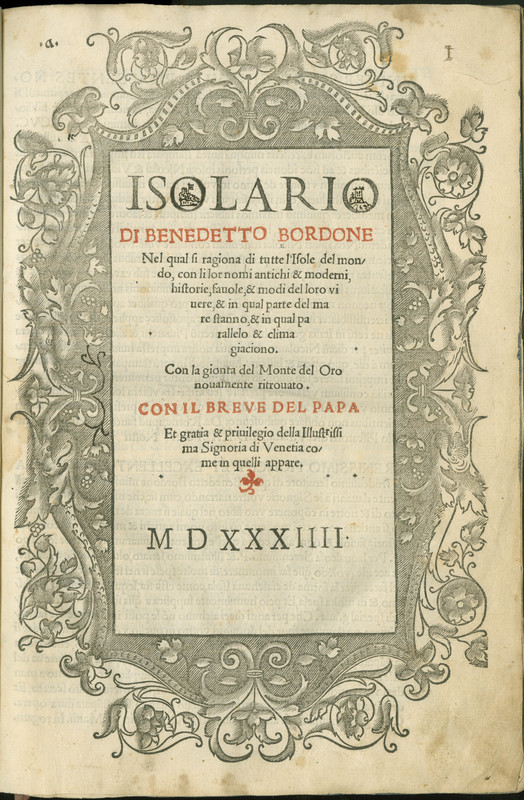 Libro di Benedetto Bordone (1534)