Growing without a plan
Throughout the country, the second half of the nineteenth century was a period of "growth, creativity, dynamism, and increasing sophistication, but it was also a period of rough-and-tumble opportunism - the heyday of laissez-faire, every-man-for-himself capitalism and the great age of the individual" (Mayer, 58-59). City planning fell out of favor, with momentary needs outweighing guidance from existing plans. As cities that had outgrown their old plans discarded them and began building, buildings were constructed without consideration of a larger plan or concept for the city. Vistas were destroyed and parks were turned into construction sites (Mayer, 59). Similarly, these national trends played out on the campus level as well.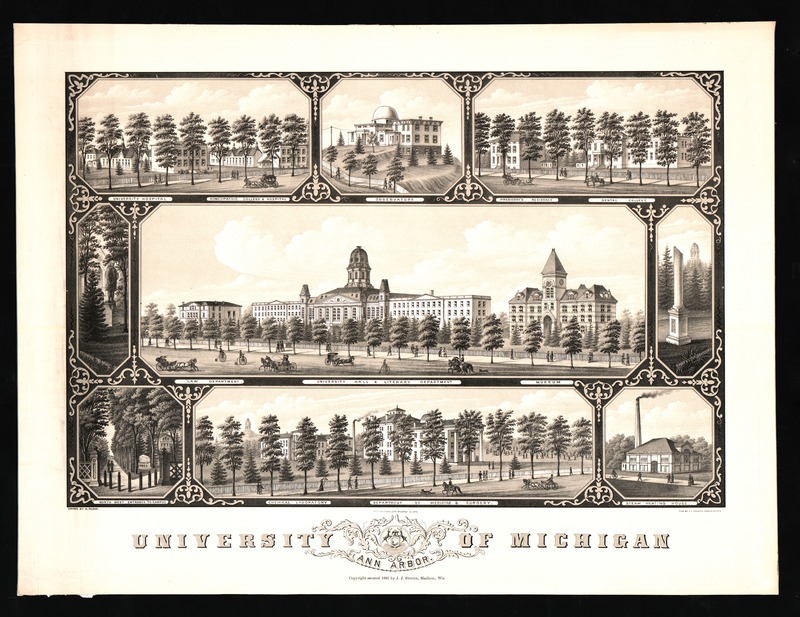 At the University of Michigan, the importance of campus planning had fallen from favor as well. President Angell chose to focus on enriching the university academically and disregarded any plans for campus development. By the 1880s the original plan for the development of campus had been discarded and the focus shifted inward towards the Diag and the heart of campus. While there were no plans guiding the growth of campus during this time, there were those on campus who saw the importance of such plans and carefully considered the siting of new buildings. In fact, with no plan to guide them, the placement of new buildings was done pragmatically, accounting for the requirements of the facility and any academic relationships to other buildings.  The General Library was placed at the heart of the original forty-acre campus, new engineering and medical facilities were added close to the Engineering College and old Medical School, respectively (Mayer, 65-66). One disadvantage of this period of rapid growth was the varying architectural styles utilized. The architectural diversity of campus meant that it would be impossible to embrace one singular style for the design of campus.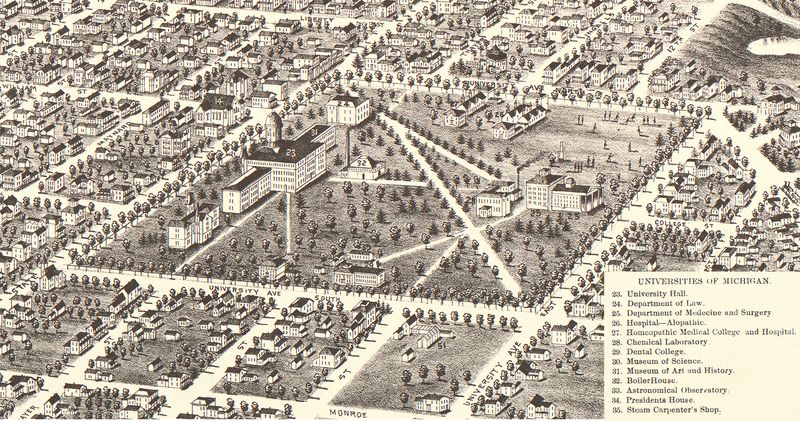 It would not be until the Columbian Exposition in 1893 before planning resumed its previous prestige within the nation's collective consciousness. The world's fair reminded people of the benefits of a planned environment and launched the City Beautiful movement across the country and across college campuses (Mayer, 59).