Artists Biographies
Rufina Bazlova (b. 1990 in Hrodna, Belarus) is a Prague-based Belarusian artist who works in illustration, comics, art books, puppet making, scenography, performance, and costume design. Bazlova gained an international profile for her series The History of Belarusian Vyzhyvanka, which uses the traditional folk embroidery medium to depict the ongoing peaceful protests in Belarus, her home country. Additionally, the artist is also known as the author of the fully embroidered comic book Ženokol (Feminnature), which explores the themes of feminism present in folk traditions. Another of her graphic series, Sametová Plzeň 1989, depicts the events of the Velvet Revolution in the Czech town of Plzeň. Bazlova holds an undergraduate degree in stage design from the theater department of the Academy of Performing Arts in Prague (DAMU) and an MFA in illustration and graphic design from the Ladislav Sutnar Faculty of Design and Art at the University of West Bohemia. Together with her colleagues from DAMU, she founded a creative group of puppeteers called Sleď Pod Kožichem (Herring Under a Fur Coat). Their play RAW was nominated for the Greenhorn Award at the prestigious Figura Theatre Festival in Baden, Switzerland in 2020.
Anna Bundeleva (b. 1986 in Minsk, Belarus) graduated from Belarusian State University in 2009 where she studied art and design. She chose to work with textiles in appreciation of the labor intensity and concentration that the medium requires. Anna treats textiles as a tabula rasa, an untouched tactile space in her artistic practice. Anna's 2018 exhibition titled Native Hill [Rodny sklon] that opened at the National Center of Contemporary Arts dealt with the questions of family, genus, and familial relationships. Her other exhibitions, Action Postponed (2018) and Tabula rasa (2019) took place at the 1+1=1 studio space. After the government crackdown on the protests in 2020, Anna's family relocated to Vilnius, Lithuania for safety reasons.  
Cemra is the artistic alias of Darya Siamchuk (b. 1990 in Hrodna, Belarus) who works in the genre of conceptual art, reflecting on the problems of modern society and looking for the most vivid and emotional ways to express them in visual media. Cemra means "darkness" in Belarusian, and the artist chose this name because most of her works reflect the dark side of humanity. Cemra has participated in several significant exhibition projects in Belarus. In 2019, she became the winner of the Autumn Salon with Belgazprombank. In 2020, her first solo exhibition took place in the Art-Belarus art gallery in Minsk, and in 2021, her second personal exhibition was held at the A&V Art Gallery, Minsk. From 2021, the artist has been displaced twice, first to Ukraine, where she fled from the Belarusian regime, and then to Poland, after the beginning of the Russia-Ukraine war. 
ДЮ (DY) is a multimedia artist-duo of Belarus-born artists Daria Sazanovich and Yuliya Tsviatkova. Daria Sazanovich (b.1990 in Babruysk, Belarus) is a multimedia artist better known by her nickname sheeborshee. After graduating from the European Humanities University in Vilnius in 2016 with a degree in visual design and media, Daria moved to Germany to undertake a master's degree in digital media at the University of the Arts in Bremen. Working as a designer and illustrator for independent media and NGOs, she is most well-known in Belarus as a "socially-engaged illustrator." In her multimedia projects, she tackles political topics and explores different forms of oppression. Since finishing her degree in Biology, Yuliya Tsviatkova (b. 1990 in Mahileu, Belarus) has been searching for a more liberal form of research, which brought her to art practice. As a visual artist working in video and textiles, she is interested in non-linear storytelling, creating a vortex of repetitions and slow changes. She works with such themes as fear, obsessions, censorship, and the "randomness" of memory. Both artists have met and are based in Bremen, Germany.
Da(r)sha Golova (b. 1990 in Belarus) is a Belarusian artist, stylist, and fashion designer based in Amsterdam, Netherlands. She studied Fashion Design and pattern-making at the Istituto Polimoda (2016) in Florence and Fine Arts at the Rietveld Academie (2020) and founded the bi-annual event Textile Initiative which focuses on clothing repair and education around the field of textiles. In 2021 she organized a participatory group show Voices of Belarus. Chapter Two: Restoring Connections at the Punt WG, Amsterdam. She has also worked in close collaboration with artist duo Liminal Vision as a costume designer for Sonzai Zone and Zhouwei Network. Currently, Dasha is working at the art residency Hotel Maria Kapel in Hoorn, where she is showing her first solo exhibition, Choreography of detention. I hear the melody from the swamp.
Masha Maroz (b. 1991 in Brest, Belarus) is a multidisciplinary artist, designer, and ethnographer from Minsk. After graduating from the Belarusian State Academy of Arts with a degree in costume design, Maroz worked on a number of projects exploring connections between mythology, ritual, collective memory, and escapism. Besides doing costume and stage design for theater and film, the artist founded and curates Past Perfect, a platform dedicated to preserving and popularizing Belarusian historical and cultural heritage. Maroz has participated in one solo and more than 17 group exhibitions. Maroz's 2020 exhibition titled Long Road Home took place at the National Center of Contemporary Arts in Minsk. The artist's intention was to "reflect not only on the visual component of folk culture but also to present a sacred knowledge dimension that our ancestors integrated into the attributes of the interior decoration of their houses."After the post-election state violence that took place on August 9, 2020, Maroz took her exhibition down to express her protest. The artist currently lives and works in Minsk.
Marina Naprushkina (b. 1981 in Minsk, Belarus) is an artist, feminist, and activist. Her diverse artistic practice includes video, performance, drawings, installation, and text. Naprushkina mostly works outside of institutional spaces, in cooperation with communities and activist organizations. Naprushkina is focusing on creating new formats, structures, and organizations based on self-organization in theory and practice. In 2007, Naprushkina founded the Office for Anti-Propaganda. It concentrates on power structures in nation-states, often making use of nonfiction material such as propaganda issued by governmental institutions. In 2013, Naprushkina founded Neue Nachbarschaft/Moabit, which grew into one of the largest initiatives in Berlin, helping to build up a strong community of people with and without migrant or refugee backgrounds. Naprushkina was awarded the ECF Princess Margriet Award for Culture (2017) and the Sussmann Artist Award (2015). Naprushkina participated in the Kyiv Biennale (2017), the 7th Berlin Biennale (2011), and the 11th International Istanbul Biennale (2009). Her work has been featured in many prestigious exhibitions across Europe. She currently works as a professor of printmaking at Kunsthochschule Berlin-Weißensee in Berlin (Ludwig-Stiftungsprofessur für Druckgrafik) and professor of painting at Universität der Künste Berlin.
Vasilisa Palianina (b. 1986 in Minsk, Belarus) is a Belarusian artist who works across various media, including graphics, installation, performance, and experimental techniques. After graduating from the Arts Department of Belarusian State University with a specialty in Design in 2009, she participated in a number of prestigious international art residencies, including the scholarship program "Gaude Polonia," in Warsaw, Poland (2019), and the art group "Slavs and Tatars. Picklebar," in Berlin, Germany (2020). Since 2018, Palianiana has been a member of the art group Who Except Us (a duo with Andrey Anro). The artist took part in three solo and more than twenty group exhibitions, as well as the following art fairs: Blazar Young Art Fair, Museum of Moscow, Moscow, Russia (2020) and Viennacontemporary, Vienna, Austria (2020 and 2021). Palianina works with topics of sexual and gender identity, human and animal source, and social aspects of mythology. Her works are located in numerous private collections in Belarus, Poland, the United States, Austria, Bulgaria, Russia, and Germany.
Lesia Pcholka (b. 1989 in Barysau, Belarus) is an artist and arts manager from Belarus who studied social psychology at MIU (Minsk Innovative University), then participated in numerous international educational programs for cultural workers. In her artistic and research practice she works with the themes of memory and everyday life. Pcholka is the leader of the VEHA sociocultural initiative and an instructor at the European College for Liberal Arts in Belarus. Among her significant publications and artworks are Girls' Night [Dziavochy vechar], The Last Picture [Aposhni fotazdymak], and The Best Side [Nailepshy bok], as well as the new Instagram-based project Invisible Trauma. Since the beginning of the protests in 2020, Pcholka has been organizing a series of Embroidery Practices Workshops. On January 23, 2021, the artist was detained in Minsk and left the country upon her release from jail. Since April 2021, Pcholka has been dividing her time among various art residencies abroad. She participated in two solo and more than forty group exhibitions. 
Varvara Sudnik (b. 2001 in Stowbtsy, Belarus) is a queer artist from Belarus who relies on her experience outside of the art establishment and institutions and does not separate her art from politics. Her work addresses the topics of exclusion, visibility, gender, labor, and trauma. Sudnik chose the textile medium because she appreciates the need to focus and slow down. Craftivism for Sudnik is a great force that overcomes the audible silence located in the painstaking labor of embroidery via processing of information through fabrics and threads. In 2020, Sudnik participated in a Craftivism workshop organized by Sofia Tokar, where she produced her 2/2 Workhifts series. Her work appeared at an exhibition titled Antibodies. Young Art From Belarus [Antikörper. Junge Kunst aus Belarus] at Westwerk Gallery in Hamburg, Germany. 
Tomorrow Is Every Day [#zaUtrakozhnydzen'] is the Ў Gallery collective anonymous protest embroidery project launched in August 2020 and promoted on social media under this hashtag. In the years from 2009 to 2020, the Minsk-based Ў Gallery became one of Belarus's leading platforms for the country's contemporary art. This collective embroidery project was one of the last in the gallery's existence. It fostered the creation of a safe communicative space, in which participants could exchange their ideas about the political situation in the country and channel their feelings into embroidery. It also became a meeting place for those Belarusian citizens who were actively protesting and those who were afraid to take to the streets. The artwork remained unfinished and was stored safely in Belarus. Today, it constitutes a part of the Ambasada Kultury archive, an organization launched by two of the former Ў Gallery co-founders, Valentina Kiselyova and Anna Chistoserdova. 
Nasta Vasiuchenka (b. 1992 in Minsk, Belarus) is a designer who graduated from the costume design program at the Belarusian State Academy of Arts in 2016. Vasiuchenka became known in 2017 for her collection of clothes titled Contemporary Radzivills inspired by Baroque styles mixed with streetwear and designed for the prominent Minsk-based Mark Formelle brand. Founded in 2018, Vasiuchenka's Kanva line combines casual style and minimalism with ethnographic and historical elements. The collection was exhibited in the ЯDRO fashion show, which took place at the Belarusian National Art Museum in Minsk and was dedicated to the 130th anniversary of Belarusian artist Iazep Drazdovich. Today, Kanva features archival images of village women, straw earrings, necklaces, and kerchiefs. Vasiuchenka's use of traditional materials is considered one of the hallmarks of her brand. Her mission is to promote Belarusian national culture through fashion. The designer currently lives and works in Minsk.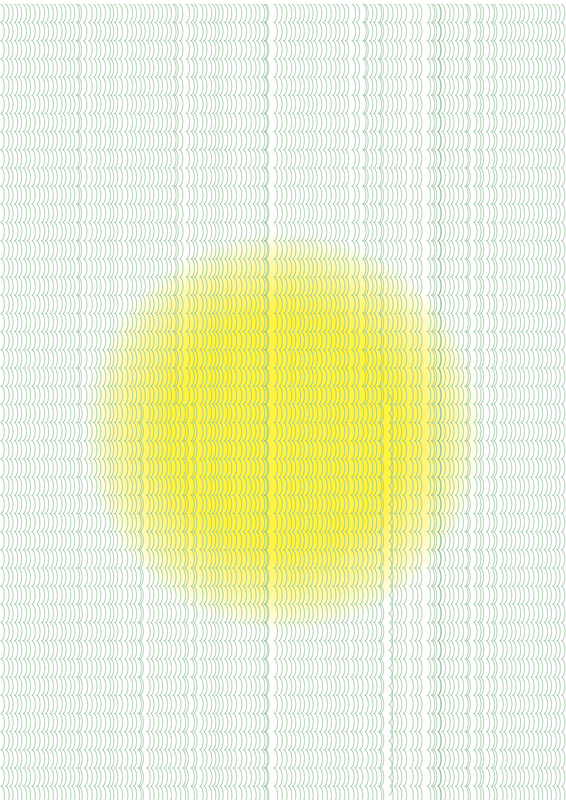 Traditional Textile Patterns in Other Mediums