Menus
Eating Out, Ordering In
In addition to "Kitchen Judaism," Jewish food has permeated the American restaurant scene. Some of these restaurants are kosher, some are historically Jewish, and others simply use the Jewish influence on American cuisine to present something new.
This sample of menus from across America represents part of the Jewish-infused dining scene of the past hundred-plus years.
The "institutions" are the classic Jewish dining spots in American history. All of these menus come from New York, and most of the are delicattessens and appetizing shops.
The "new, modern, fresh" restaurants are exactly that, new to the scene. They do not fit the classic model of a Jewish restaurant. While some of them of are in New York, most of them are not. Even though Zingerman's is known as a deli, this restuarant, like the others in this section, do not create a distincitly Jewish space, and more often than not, serve non-kosher foods. The other restaurants are representations of the new era of Jewish food; dominated heavily by Chinese food and other American classics.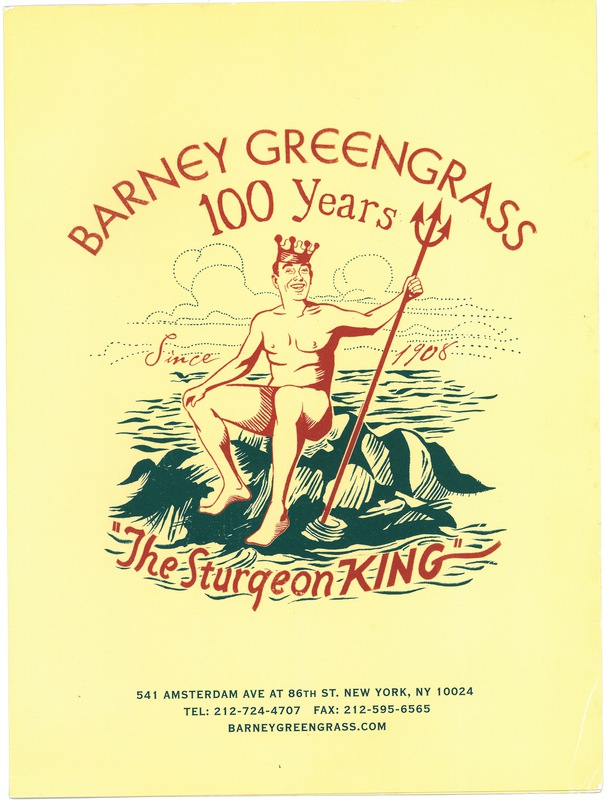 Institutions
One cannot talk about Jewish food in America without recognizing the (New York) institutions that formed the foundation for America's Jewish dining experiences. For every restaurant, deli, appetizing shop, and restaurant mentioned here, many more should be named. But as a representative of this experience, we hope these are sufficient to instill in you the history and value of early Jewish eateries.
The New York deli—made famous through Hollywood, tourists, and (former) New Yorkers—is one of the most important contributions attributed to Jews that has resonated in American foodways. For many, a trip to New York is incomplete without a stop at one of these venerable spots: 2nd Ave Deli, Katz's, Stage Deli (closed in 2012), and the Carnegie Deli.
Similarly, the appetizing shop, often confused as a delicatessen, is in a category all its own. Different varieties of smoked and pickled fish, cheeses, and other preserves are the purview of these kings of New York: Russ and Daughters, Barney Greengrass, Zabars, and Shelsky's.
In the mid-twentieth century, a handful of entrepreneurs began opening and marketing kosher resort hotels in the Catskills to Northeastern Jews to escape the city. Even though most of the resorts and bungalow colonies are no longer existent, their legacy, in form of Borscht Belt and other comedians, of Jewish resorts, and of annual exoduses from the city, still survives. Some of the most notable resorts were the Concord, Kutsher's, and Grossingers.
New, Modern, Fresh
These represent some of the newer items in America's Jewish culinary experience. Some of these are new iterations of classical identities while others are simply adoptions of other ethnic cuisines with dietary laws of kashrut. These items represent the changing identity of Jewish food in America.
For many years, Chinese food was understood as the de facto Jewish food, reserved for Christmas and non-Jewish holidays, Jewish celebration-fare, and weekday meals. Without any dairy in Chinese recipes, it was very easy to adapt to a kosher diet. Even though pork played a large role, with chicken, duck, beef, and fish, almost all Chinese dishes could be replicated for a kosher palette. (Most recently, sushi has become the exciting food for Jewish events, as it too can be easily adapted to kosher rules.)
Another popular theme is the renovation of the stale delicatessen, which is perhaps most recognizable in Ann Arbor's own Zingerman's deli. While not a kosher establishment, or even kosher style, Zingerman's has created a name for itself in providing high quality and memorable foods. Much more a gourmet sandwich shop and restaurant than a classic deli, Zingerman's, like Starky's and many other new delis in America, creates good food from this classic Jewish space.
And then there are those that don't quite fit. A wood-fired matzo oven that churns out Italian-inspired Creole cuisine for Passover and a bowl of "sacrilege soup," which is a baconed matzo ball served in a vegetarian broth.