Imagining the Other at Home Overview
In the aftermath of World War One, it is popularly imagined that American turned away from the world; this inwards focus is strikingly absent from the Jell-O advertising of the era, which is remarkably global in outlook. Orientalist, and racist, but global nonetheless. From Dutch kitchen scenes to Company Luncheons with Buddha figurines, the Other is imagined; sometimes consuming Jell-O, sometimes too Other to be consuming it.
White American culture (building on work by Eric Lott, in particular Love and Theft: Blackface Minstrelsy and the American Working Class) was endlessly fascinated and fearful of what they imagined the Other to be, and continually appropriated the imagined authority and/or attributed power.  In melting-pot America, Jell-O advertising imagined the racialized Other at home – he as the archetypical Chinese Cook; she as the mythologized Southern Mammy, as geographic -- from the extreme territory under the Northern Lights to the windswept Great Plains, and temporal – shown in both contemporary and historical settings. The Jell-O brand is thus thickly ubiquitous – both white and non-white, both everywhere and at home, both historical and contemporary – until the viewer fixes their meanings.
Imagining the Other at Home I
Imagining the Other at Home II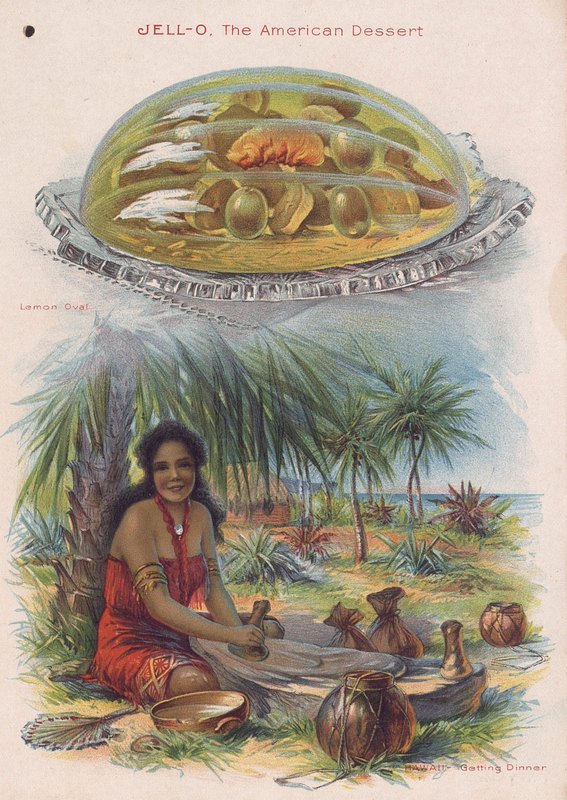 Imagining the Other Overview