Memoirs, Letters, and Posthumous Publications
A memoir of Jane Austen was written by Austen's beloved nephew, James Edward Austen-Leigh. The first edition of the memoir was published in 1870, fifty-three years after Jane Austen's death. This is a sixth edition published in 1886 with the original preface from 1870.

The second and subsequent editions of the memoir prominently debuted Lady Susan. After Jane's death, the owner of the manuscript, Lady Knatchbull, allowed its publication against James's wishes. Lady Susan is Jane's only mature fiction written in the epistolary style. Like Sense and Sensibility and Pride and Prejudice, both initially written in the epistolary style, this version of Lady Susan could possibly be a preliminary draft of a novel which would have later employed a direct narrative style.

This memoir is also noteworthy for its inclusion of The Watsons. An unfinished novel, The Watsons was written between 1803 and 1805 after Austen revised Sense and Sensibility and Pride and Prejudice. It was written in Bath after her father's death. James speculated that Jane did not complete The Watsons because she was struggling with the characters, but other theories claim she was too depressed to complete the novel. Caroline, James's sister and the owner of the manuscript, gave permission for its publication against her sister Anna's wishes. The Watsons is the only work Austen wrote between the first drafts of Pride and Prejudice, Sense and Sensibility, and Northanger Abbey.
(Ha Eun Lee, Brooke White)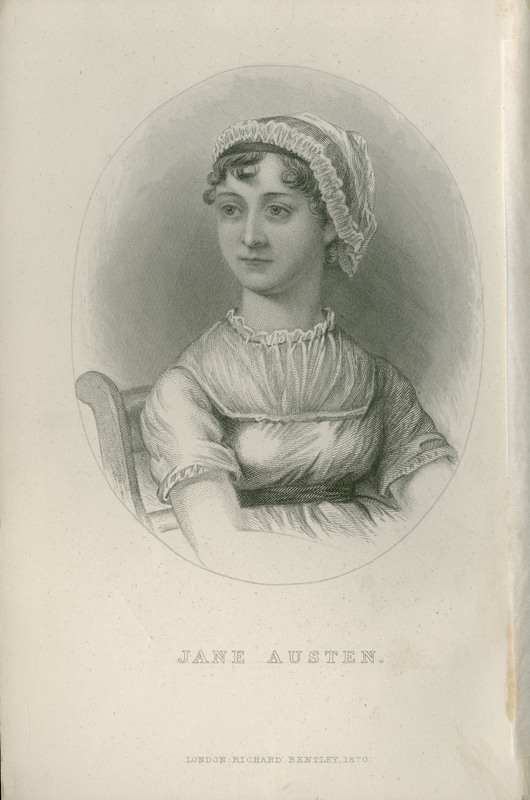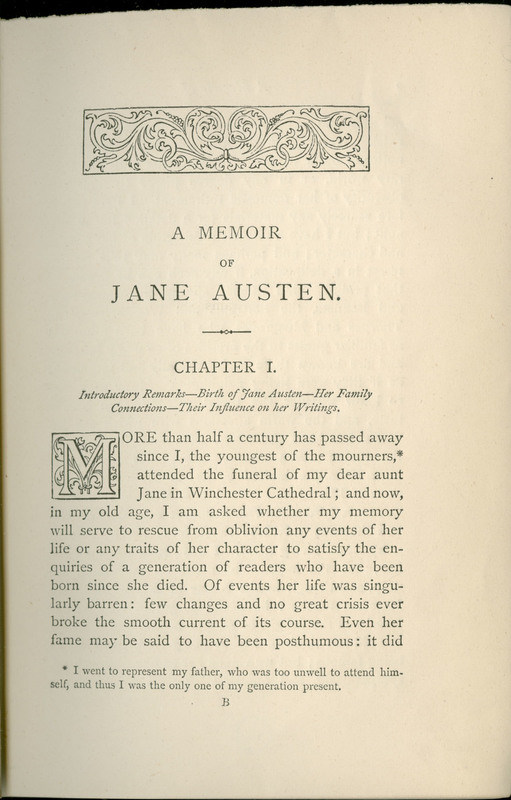 Jane Austen is estimated to have written 3,000 letters during her lifetime. These letters to her niece Fanny Knight are a good example of the conventions of letter writing in the Regency period. The paper the letter was written on was folded and then sealed. Envelopes were not used due to the extra expense. To cut down on expenses, writers would use as few pieces of paper as possible. Whoever received the letter would have to pay for it, and the thinner the letter, the cheaper it would be. Jane Austen would have written these letters with a quill pen, made from a goose or crow feather. Metal pen nibs had been invented, but the price again impacted the conventions of letter writing.

These five letters offer a rare glimpse into Jane Austen's inner life through the candid and informal writing style she used in her correspondences with loved ones. Originally published in 1884, the Lord Brabourne edition of the letters omitted certain "family details" which were left untouched in later publications. While she writes to Fanny about many events in her daily life, including the impending publication of her novel Mansfield Park, the majority of the letters are devoted to offering her niece some much-needed love advice. Fanny's predicament—whether or not she should consent to marry a man of high standing who she does not love – echoes the internal conflicts faced by many of Austen's heroines, and the author seems unsure herself what her niece should do.
(Ryan Lakin, Alexandra Wisbiski)
Lady Susan is a novel in epistolary style written by Jane Austen around the year 1805. This edition of the novel was published in 1925 and contains an index of all the changes from the original manuscript to the current copy. This version itself is quite plain, containing no cover art or any illustrations. The novel was originally completed but not published during Austen's lifetime. It first appeared in print in 1871 in the 2nd edition of James Edward Austen-Leigh's A Memoir of Jane Austen along with two unfinished works by Jane Austen. The untitled novel was originally gifted to Austen's niece, Lady Knatchbull, who then gave permission to Austen-Leigh for publication. It was titled Lady Susan. The memoir was commissioned by the Austen family after the deaths of Austen and her brother.
Lady Susan is a humorous story that follows the escapades of the beautiful widow and accomplished flirt, Lady Susan Vernon, who gets mixed up with multiple lovers while also trying to marry off her daughter, Frederica, who is opposed to the idea. Lady Susan was never a well known novel of Jane Austen's, but was recently adapted to the big screen under the title Love and Friendship.
(Heather Barnell, Megan McKenzie)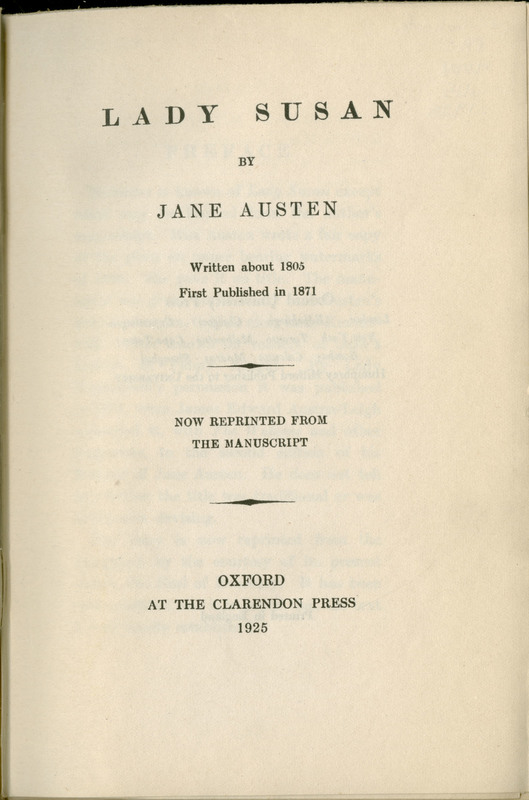 With only 350 copies printed, this book provides rare insights into the construction of Austen's early novels. Plan of a Novel depicts opinions and suggestions from Jane Austen's trusted family, friends, and acquaintances regarding her early works such as Mansfield Park and Emma. These give an interesting insight into Austen's writing and editing process as well as personal insight into who Austen's friends and family were. Some notable contributions included the opinions of Mr. Sherer, a reverend who was at odds with Austen's description of clergymen, and Fanny Knight, Austen's favorite niece, who provided detailed feedback. It's interesting to note the sheer number of opinions Austen took into account for her novels. For Mansfield Park Austen asked fourty-one different opinions, including some families, and for Emma there are fourty-four different opinions. Another intriguing aspect of the book is that people were very honest in their feedback, such as that of Mrs. Digweed's opinion of Emma, "did not like it so well as the others, in fact if she had not known the Author, could hardly have got through it." Mr. Cockerell, another acquaintance, liked it "so little, that Fanny would not send me his opinion." Plan of a Novel also includes some of Austen's letters to Mr. Clarke, a librarian and admirer of Austen's work. These letters further highlight what Austen might have taken into consideration in her editing process. The book also includes Austen's notes on her novels' profits and dates of exposition.
(Chloe Chung, Brittany LeGwen)
Fragment of a Novel was the last work written by Jane Austen before her death in 1817. The work was unfinished and untitled, but it was referred to by Austen's family as Sanditon, which now remains the work's title. Austen's niece Anna was the first inheritor of the manuscript and it was later passed onto her great-great grandniece who decided to publish it in 1925. It was her belief that since many lines of the work had previously been published in the second edition of Memoir of Jane Austen by Jane's nephew James Edward Austen-Leigh, the entire novel should not be withheld from the public.
Following its publication in 1925, book reviews and newspapers rejoiced at the release of Austen's final work. Controversy still surrounds the moral implications of publishing Austen's work posthumously however, as it is unknown if Austen would have wanted it to be published as it was. Even so, many scholars and fans are grateful for its publication. Fans continue to enjoy the work as it is republished and as many contemporary writers strive to complete the unfinished work. Notably, one of the first attempts, Sanditon by Jane Austen and "Another Lady" was a best-seller in England throughout 1975.

This first edition of Sanditon remains verbatim to and unedited from Austen's original manuscript. It remains in its long-paragraph form, and the editor, Robert William Chapman, includes notes on Austen's crossed-out passagesfrom the manuscript in the back of the work, allowing scholars and fans to follow Austen's writing process and genius.
(Jennifer Emery, Kayla Kaszyca, Lauren Zavicar)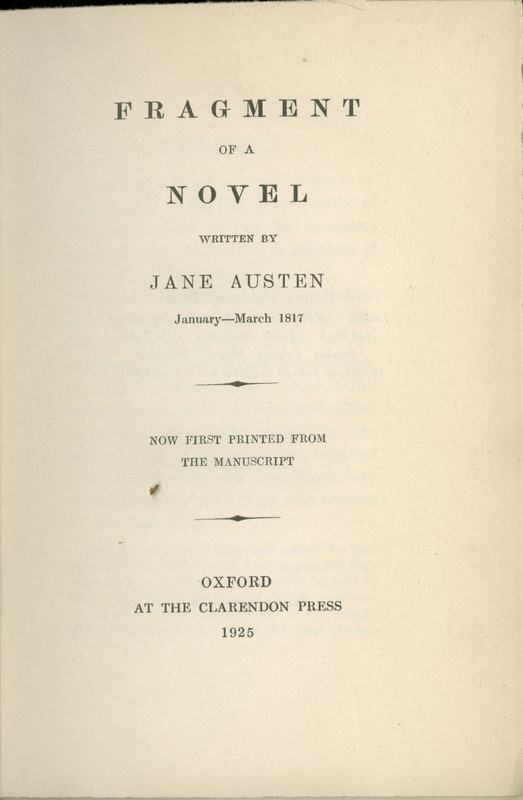 Reading and Responding to Austen