Trotter Center Directors
The Trotter Center has had many directors since its doors opened in 1971:
Alex Hawkins
(1971–1972)



Thaddeus R. ""TR" Harrison




(1972–1973)





Lois Owens




(1973–1976)





Beulah Sanders




(1976–1979)





Reginald "Reggie" Armstrong




(1979–1980)





Jemadari Kamara




(1980–1981)





John Powell




(1981–1983)





Michael L. Swanigan




(1984–1994 & 2017–2018)





Edward "Ed" Burnett




(1994–2014)





Jacqueline D "Jackie" Simpson




(2014–2017)





Julio Jose Cardona




(2018–2020)
At the present time in 2022, Trotter Center is without a director. With the resignation of Julio Cardona in January 2021, Kellyn Mackerl-Cooper, Trotter Associate Director and Nadia M. Bazzy, MESA Director, provide internal and divisional support to Trotter through the director vacancy. Entering 2020 the pair continues to provide leadership as a search for the director is being initiated. 
All of the directors have contributed to the Trotter Center and left behind legacies, endeavoring to create a welcoming atmosphere. Two such legacies are described below. Thaddeus R. (TR) Harrison was announced as the youngest Director of Trotter House at 20-years-old, according to an article in the September 19, 1972 edition of the Ann Arbor News. Harrison was a protester during BAM I and was among a group of Black students arrested for hitting an Ann Arbor police officer with a brick. Charged with assault with intent to commit great bodily harm, Harrison faced 10 years in prison. He was found guilty of felonious assault, a lesser charge, but still a felony that could have ended his dream of becoming a lawyer. While appealing the conviction, Harrison finished his degree in May 1972 at the University of Michigan in two and a half years, and became the director of Trotter in September of 1972. The felony conviction was reversed in 1973 by the Michigan Court of Appeals.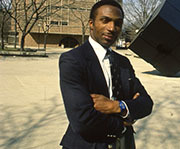 Harrison, pictured above in 1990, in front of the "The Cube" in Regents Plaza on the University of Michigan-Ann Arbor campus, made it his mission as director to make Trotter House a home away from home. Harrison would go on to receive his law degree from the U-M Law School in five years.
Lois Owens served as Trotter House director from 1973 to 1976. As part of her tenure, Owens started an African dance group and a gospel choir in 1973 in order to include more cultural heritage celebrations. Owens was closely involved in the dance group and the choir.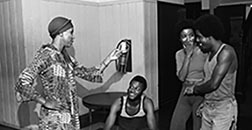 Pictured above, Lois Owens prepares the Trotter House dance troupe for her farewell concert. It had seven members: Donald Preshy, Cecile Keith, Thom McClain, Maria Mitchell, Mildred Morton, and Bernard Wiseman.