New Trotter on State Street
In 2017, 13 years after the Trotter Center was in need of immediate repairs, the University of Michigan broke ground on a new building.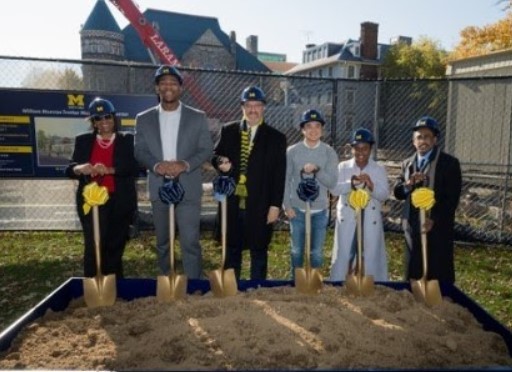 In the image above, President Schissel celebrated the groundbreaking, with gold shovels, alongside student, faculty, and staff representatives, including Michael Swanigen (on the right), the former interim director of the Trotter Center. Less than two years later, the new center opened in its new location on State Street — with the doors open on April 8 and a grand opening celebration on April 11.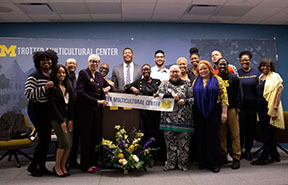 The celebration of the opening, pictured above, featured students, staff, and faculty celebrating with banners and flowers. In the Michigan Daily article, "After decades of activism, new Trotter Multicultural Center opens on State Street," President Schlissel stated that, "the Trotter Multicultural Center is a new home for many personal and shared identities, for unity, for learning, for reflection and for hope." The new 10-million-dollar Trotter Multicultural Center is a result of decades of activism by students starting in 1969. Five years after Hashtag #BBUM, the new Trotter Multicultural Center opened on April 8, 2019.