Black Action Movement in the 21st Century - 2013
In November 2013, the Black Student Union launched #BBUM — a Twitter hashtag that stood for "Being Black at the University of Michigan." The students asked other Black students to go onto Twitter and testify about their experiences on campus. The Twitter campaign gained national attention. Many of the tweets sounded like they could have come from Black students in the 1960s, 1970s, 1980s, and 1990s; it seemed like nothing had changed. Students carried protest signs that quoted the tweets to demonstrations.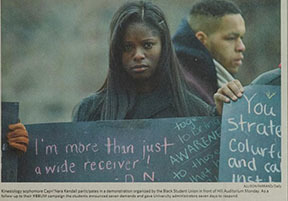 In the image above, student Capri'Nara Kendall carries a sign at a demonstration in front of Hill Auditorium that reads "I'm more than just a wide receiver." The demonstrations and the hashtag demonstrated how little had changed for students of color at the University of Michigan. Out of this movement, #BBUM provided a list of seven demands:
We Demand the University to give us an opportunity to implement change. The change that complete restoration of the BSU's purchasing power through an increased budget would obtain.

We Demand the University make housing available on the central campus for those of lower socio-economic status at a rate that students can start to be a part of university life, and not just on the periphery.

We Demand for an opportunity to congregate and share our experiences in a new Trotter (Multicultural Center) located on Central Campus. 

We Demand an opportunity to educate and be educated about America's historical treatment and marginalization of colored groups through race and ethnicity requirements throughout all schools and colleges within the university.

We Demand the equal opportunity to succeed with emergency scholarships for Black

Students in need of financial support, without the mental anxiety of not being able to focus on and afford the University's academic life.

We Demand for increased exposure to all documents within the Bentley Historical Library. There should be transparency about the University and its past dealings with race relations.

We Demand an increase of Black representation on this campus equal to 10%. 
Many of these demands, like those calling for representation, financial support for Black students, and a safe, inclusive space for students of color, echoed and reverberated the demands of BAM I, II, and III. 
Black Action Movements III - 1987