Wilma Mankiller
Chief: Wilma Mankiller
Born: November 18, 1945 in Tahlequah, Oklahoma
Died: April 6, 2010 in Adair County, Oklahoma
Nationality: Ani-Yunwiya (ᎠᏂᏴᏫᏯ) (Cherokee, also Dutch and Irish descent)   
The family surname, Mankiller, refers to a traditional Cherokee military rank; it is Asgaya-dihi     
Wilma Mankiller was the first female chief of the Cherokee Nation. She served for 10 years. Wilma Mankiller's political career began in 1983 when she was first elected deputy chief of the Cherokee Nation. In 1985 she launched a campaign, and was elected primary chief of the Cherokee Nation between 1985 and 1995.  Mankiller was the only female that ever served as chief of the Cherokee's in a male dominated leadership role. During her tenure as chief Mankiller reinvented the Cherokee community with numerous projects. Tribally owned businesses were created that included horticultural and plant establishments. In the Bell community of Oklahoma running water was established, and a hydroelectric facility was built. Also the Cherokee Nation Community Development Department was founded by Mankiller and her administration.  Together they increased the population of the Cherokee Nation from 55,000 to 156,000.  "Prior to my election," says Mankiller, "young Cherokee girls would never have thought that they might grow up and become chief." [3]
Mankiller achieved several rewards throughout her lifetime, and in 1993 she was inducted into the National Women's Hall of Fame. She also wrote an autobiography called Mankiller: A Chief and Her People. Mankiller's personal life was not easy as she was involved in an almost deadly car accident in 1979, and had multiple surgeries thereafter.  She also had several other health issues that included breast cancer, myasthenia gravis etc. Against all odds she managed to overcome her ailments, and became a legacy for the Cherokee Nation. In 2010 Wilma Mankiller died of pancreatic cancer in her home in Adair County, Oklahoma.
Resources about Wilma Mankiller:
Wilma Mankiller. (n.d.) In Wikipedia. Retreived March 1, 2016 from Wikipedia.
Janda, Sarah Eppler. Beloved Women: the political lives of Ladonna Harris and Wilma Mankiller. DeKalb, Ill., Northern Illinois University Press, 2007.
Mankiller, Wilma and Wallis, Michael. Mankiller: a chief and her people. St. Martin's Press New York, 1993.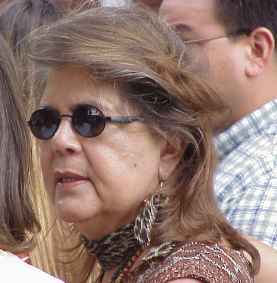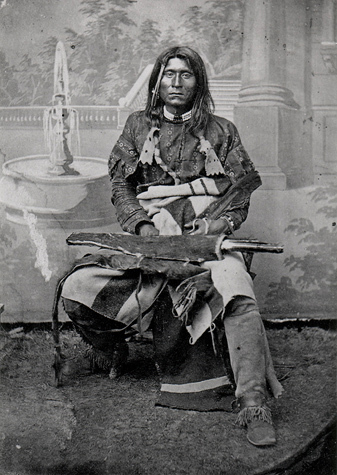 Kintpuash (aka Captain Jack)