Ask a Librarian Assistant Casey has curated a Shapiro Lobby book display for Black History Month that features non-fiction books by black authors, in honor of past and current leaders, events, and movements.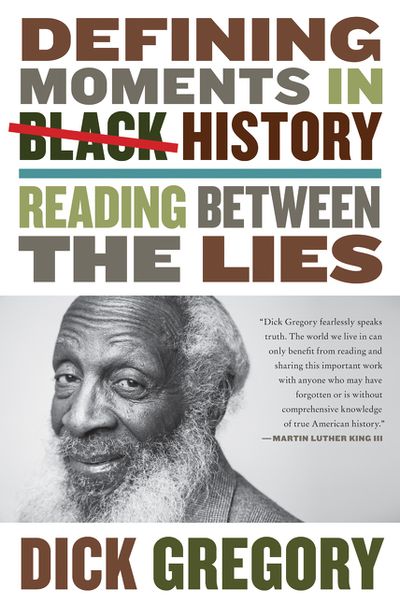 Defining Moments in Black History: Reading Between the Lies by comedian and activist Dick Gregory, who died shortly before the book's publication, is the recipient of the NAACP 2017 Image Award for Outstanding Literary Work – Non-Fiction. Gregory looks back at 100 key events from the complicated history of black America. In a series of essays "he moves from African ancestry and surviving the Middle Passage to the creation of the Jheri Curl, the enjoyment of bacon and everything pig, the headline-making shootings of black men, and the Black Lives Matter movement." (from the publisher website)
Blinded by the Whites: Why Race Still Matters in 21st-Century America by David H. Ikard. From the book cover: The scholar and author posits that "the election of Barack Obama gave political currency to the (white) idea that Americans now live in a post-racial society. But the persistence of racial profiling, economic inequality between blacks and whites, disproportionate numbers of black prisoners, and disparities in health and access to healthcare suggest there is more to the story." Ikard is Professor of African American and Diaspora Studies at Vanderbilt University.
No Ashes in the Fire: Coming of Age Black & Free in America by Darnell L. Moore is a New York Times Notable Book of the Year for 2018. In this memoir, Moore, a journalist and leading Black Lives Matter activist recalls growing up in Camden, NJ, bullied for being gay, and how he became a leading organizer with Black Lives Matter.
Books by and about African American women are also included in the display.
Black Girls Rock!: Owning Our Magic, Rocking Our Truth edited by Beverly Bond is a collection of essays by performers and artists including Misty Copeland and Beyoncé, athletes including Venus Williams, activists such as Patrisse Cullors, politicians including Maxine Waters and many more women from across the spectrum of professions and life experiences.
There are also books by and about individual women including Gabrielle Union's memoir We're Going to Need More Wine: Stories That Are Funny, Complicated, and True (Nominated for the NAACP Image Award for Outstanding Literary Work and Named a Best Book of the Year by The Root, this advocate for sexual assault victims discusses power, color, gender, feminism, and fame); My Life, My Love, My Legacy by Coretta Scott King, 2017 NPR Book of the Year (The life story of Coretta Scott King—wife of Martin Luther King Jr., founder of the Martin Luther King Jr. Center for Nonviolent Social Change (The King Center), and twentieth-century American civil and human rights activist); and though you probably won't find it on the shelves, since it is so popular right now, you can use Get This to get in the queue to read Michelle Obama's autobiography Becoming or listen to the audiobook version.
The display also includes books on African American life, experiences, and contributions to various cities.
The Black Chicago Renaissance edited by Darlene Clark Hine and John McCluskey Jr. "Beginning in the 1930s, Black Chicago experienced a cultural renaissance that lasted into the 1950s and rivaled the cultural outpouring in the Harlem Renaissance of the 1920s. The contributors to this volume analyze this prolific period of African American creativity in music, performance art, social science scholarship, and visual and literary artistic expression." (from the summary in the catalog record)
Black Los Angeles: American Dreams and Racial Realities edited by Darnell Hunt and Ana-Christina Ramón is the culmination of a groundbreaking research project from the Ralph J. Bunche Center for African American Studies at UCLA that presents an in-depth analysis of the historical and contemporary contours of black life in Los Angeles. (from the publisher's website)
Black Rage in New Orleans: Police Brutality and African American Activism from World War II to Hurricane Katrina by Leonard N. Moore. In this book Moore, the George Littlefield Professor of American History at the University of Texas at Austin, "traces the shocking history of police corruption in the Crescent City from World War II to Hurricane Katrina and the concurrent rise of a large and energized black opposition to it. In New Orleans, crime, drug abuse, and murder were commonplace, and an underpaid, inadequately staffed, and poorly trained police force frequently resorted to brutality against African Americans. Endemic corruption among police officers increased as the city's crime rate soared, generating anger and frustration among New Orleans's black community." (from publisher webpage)
For the complete list of books on display February 2019 in the Shapiro Lobby, click here.